Are you considering a career in digital marketing? Do you wish to know how much a digital marketing professional earns? What is digital marketing salary for various roles?
There has been a huge rise in the number of businesses around the world that are already online or are planning to go online soon. In turn, this has made this industry need more people who know how to use digital marketing. Companies spend a lot of money on branding, marketing, and advertising online.
A question which keeps popping up is- Is digital marketing a rewarding career?
Well, in this blog, we will explore digital marketing salary. We will be learning about various job profiles and salary ranges. Let's begin by understanding what digital marketing is.
What is Digital Marketing?
Digital marketers use elements like search engines, email, mobile apps, social media, etc. to reach consumers.
Through digital marketing, experts can:
create and share social media posts
attract customers with a well-thought-out plan
come up with content and video ideas that are likely to go viral
generate new leads through social media marketing and other forms of digital marketing and much more.
Now, we will explore why you should get into digital marketing.
Why Should You Get into Digital Marketing?
The field of digital marketing is growing quickly, which makes it one of the most in-demand jobs right now. It's easy to see why people want to work in digital marketing.
Digital marketing is an appealing field to get into for a number of different reasons like:
It gives you the chance to work on interesting and important projects
meet potential employers
work with like-minded people
learn about new opportunities through client networking, and do all of this from anywhere.
Next, let's have a look at various factors which can affect the salary of a digital marketer.
Factors Affecting Digital Marketing Salary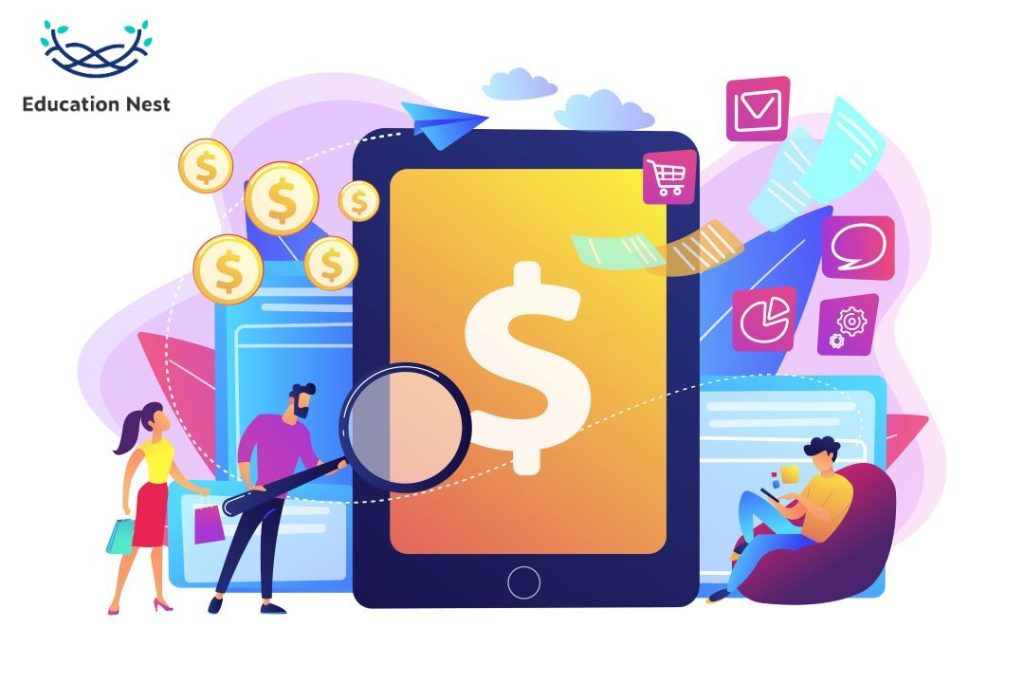 Indeed, there are various factors which affect digital marketing salary. Let's explore a few of them.
Educational Background
LinkedIn says that for entry-level digital marketing jobs, you need four years of college. The field can be anything from business administration and communications to journalism and advertising. A lot of people who work in digital marketing today got their start in the field before they went to college. They started their marketing career after getting specialized training in things like search engine optimization, paid search marketing, data analytics, and more. You should know, though, that getting more education will give you more negotiating power when it comes to salary.
Skills in Digital Marketing
You may be paid more than your competitors if you have both technical SEO knowledge and experience building links, as well as strong interpersonal skills and good communication skills. You should learn search engine optimization, social media advertising, project management, audience development, data analysis, and copywriting because these are the most in-demand digital marketing skills right now.
Experience in Digital Marketing
If you've been doing digital marketing for more than five years, you should be able to negotiate a higher salary. When you have more experience, your salary goes up. But the level of expertise isn't just based on how long someone has worked there. If you specialize in a certain field or use special equipment, you might be able to make more than a marketing copywriter. People who work in artificial intelligence and machine learning have to deal with the same problems.
LinkedIn says that a senior director of digital marketing makes $105,000, a middle manager makes $70,000, and a digital marketer who is just starting out makes $52,000.
Geography
Where you live will play a big role in how much you get paid for digital marketing. According to Indeed, the average salary for a digital marketing manager in New York is $76,477, in Chicago it's $67,170, and in Denver it's $66,248. Salaries in the field of digital marketing show how working from home is becoming more and more common.
Company
Top tech companies pay their employees fair wages. A digital marketer makes the same amount of money as any other marketer. Most of the time, the highest pay goes to skilled and experienced candidates who can help a startup. Payscale says that the average annual salary for a digital marketing expert in the United States is $51,209. Accenture, Deloitte, IBM, Fortira, Apple, Intel, Meta, etc. are some of the best companies in the field of digital marketing that pay competitive salaries.
Finally, let's explore digital marketing salary for various roles.
Digital Marketing Salary Depending on Roles
Digital marketing involves a lot of different jobs. Here are the annual digital marketing salaries for freshers at different positions:
| | | | | |
| --- | --- | --- | --- | --- |
| Role | Skills | Indian Salary | US Salary | UK Salary |
| Digital Marketing Manager | Plan digital marketing strategies and campaigns and keep an eye on them to make sure they are working well. | ₹530,000 | $47,828 | £23,106 |
| Digital Marketing Analyst | Monitoring online trends, analyzing statistics, coming up with strategies, and keeping track of how campaigns are doing. | ₹269, 000 | $46,311 | £28,883 |
| Digital Marketing Executive | Creating digital strategies, keeping an eye on social media presence and planning for it, and putting out optimized ads. | ₹240,902 | $45,447 | £21,587 |
| Search Engine Optimization (SEO) Specialist | Planning and building websites, as well as making changes to websites to help them rank higher. | ₹187,205 | $40,888 | £22,671 |
| Search Engine Marketing (SEM) Specialist | Managing paid search campaigns and getting the most traffic, customers, and return on investment (ROI). | ₹230,000 | $43,510 | £29,000 |
| Social Media Manager (SMM) | Taking care of social media channels and coming up with content and marketing strategies. | ₹241,347 | $40,748 | £20,644 |
| Content Marketing Specialist | Taking care of content on all digital media channels and planning engagement strategies. | ₹231,923 | $45,618 | £23,213 |
| Content Writer | Writing content that drives traffic and researching topics that are popular and relevant to the industry. | ₹207,189 | $38,924 | £20,489 |
At this time, you must have understood the various salaries at different roles.
Lastly, let's understand the future and scope of digital marketing.
Scope and Future of Digital Marketing
Digital media have a huge effect on modern society, and that effect is only likely to grow. Because of this trend, more and more businesses around the world are choosing digital marketing over more traditional strategies because it brings in higher returns faster. As a result of this, the demand for digital marketing experts has gone through the roof, which has caused the average salary in the field to go up. It's safe to say that working in digital marketing is a great way to grow professionally and make money.
Conclusion
After talking about what factors affect the Digital Marketing salary different professionals get, it's important to remember that these numbers are not set in stone. In the end, a professional's salary is based on how skilled and experienced they are. Every company wants to hire people who are willing to learn new things and help the company grow.