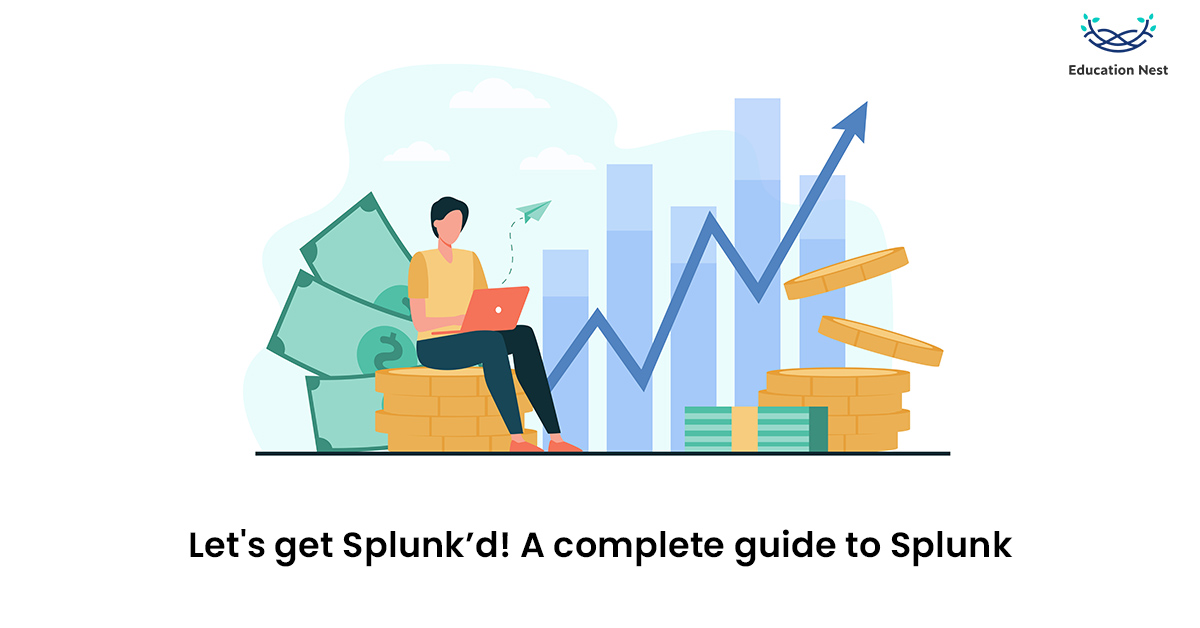 The Splunk platform breaks down boundaries between data and action, giving observability, IT, and security teams the tools they need to keep their businesses secure, adaptable, and creative. Splunk is used for Big Data monitoring and searching. The ability of Splunk to access data from all business areas is what gives it its power.
In this article, we'll learn about the fundamentals of Splunk, its features as well as the advantages and disadvantages of using Splunk. The applications of Splunk in Machine Learning and the Applications of Splunk are also discussed to allow readers to gain necessary information about this Big Data Manager.
What is Splunk?
Splunk correlates and indexes data into a searchable container, enabling the creation of alerts, reports, and visualisations. It can identify data patterns, produce metrics, and aid in problem diagnosis for business issues like IT management, security, and compliance.
With its open, flexible data platform, Splunk allows users to exchange data in any setting. All teams within a company can then receive contextual end-to-end visibility for all interactions, and business processes utilise Splunk to establish a solid data foundation.
Splunk indexes and searches log files using cutting-edge, scalable, and efficient technology. To give operational intelligence, it examines the data that is created by machines. The key benefit of adopting Splunk is that it uses its indexes extensively to store the data. Therefore it doesn't require a database to do so.
Features of Splunk
Data Gathering and Indexing
Splunk gathers information from essentially any place and source. It freely analyses and correlates data while converting logs into metrics without being constrained by preexisting database structures. It can also extract data from data warehouses and relational databases.
Broaden innovation
Organisations need reliable, secure tools to uncover the correct insights and execute them to innovate at any size. With the help of Splunk, you can continue to innovate in the face of uncertainty and discover new opportunities in your data.
Workload Monitoring
The workload management function of Splunk offers a policy-based method for allocating system resources (such as CPU and RAM) for workload collection & recovery following corporate priorities. Administrators can therefore organise workloads into groups and save system resources for those groups of workloads with a higher priority.
Boost Security
It is becoming more challenging to maintain a competent security posture. Attacks are more intricate than ever, and attackers have more entrance points. With the aid of Splunk, you may modernise your security operations in any setting. As a result, security operation centres (SOCs) that support corporate growth are more effective and handy.
Investigate, Examine, and Visualise
Data exploration is made possible by the search processing language offered by Splunk. It has a graphic user interface that unskilled users, analysts, and business users use. Results can be easily understood by any audience thanks to rich visuals.
Observe, Alert, and Report
When data exceeds the threshold, Splunk actively alerts users to potential issues while monitoring occurrences. Alerts can start a programme, send a notification, or perform a custom action. Teams can create custom dashboards or integrate them into other programmes to organise and distribute data.
Premium Solutions and Apps
Splunk provides several -security, IT, and DevOps technologies that can assist businesses in getting more value from their data and responding to significant events.
For instance, Splunk offers both Splunk SOAR, which automatically responds to security incidents, and Splunk Enterprise Security, a Security Information and Event Management (SIEM) solution.
Machine Data Analytics in Splunk
With the help of Splunk, enterprises can maximise the value of server data. It is feasible to manage IT operations, monitor security, and administer applications effectively.
At its core, Splunk is An engine that gathers, indexes, and handles massive amounts of data. It can quickly process thousands of gigabytes or more data in any format. Splunk actively analyses data, generating schemas as needed, enabling enterprises to query data without first comprehending the data structure. Splunk makes it easy to load data and start analysing it right away.
Splunk can be installed On a single laptop or in a significant, distributed architecture in a business data centre. It offers a machine data fabric that enables real-time collecting and indexing of machine data from any network, data centre, or IT environment. This fabric includes forwarders, indexers, and search heads.
Pros and Cons of Splunk
Pros:
Splunk generates analytical reports with interactive tables, charts, and graphs that benefit users.
The implementation of Splunk is simple and scalable.
You don't need to manually discover the valuable information hidden in your data because Splunk can uncover it for you.
Splunk saves searches and tags regarded as vital information to enhance the system's intelligence.
Cons:
Splunk could be expensive if dealing with large volumes of data.
It is impossible to effectively execute search speed optimisation because it is more philosophy than science.
Dashboards can be helpful, but Tableau is more dependable.
An issue Splunk faces is the ongoing attempt by the IT industry to replace it with new open-source alternatives.
You Must Like: How is Data warehousing different from data mining?
Applications of Splunk
A Splunk-based enterprise intelligence platform offers solid tools for storing, organising, analysing, and deriving insights from various data sources.
The Splunk platform aids businesses in tackling crucial use cases like:
IT business activities
Real-time monitoring, event management, alerting, and visibility into the condition of virtual and physical IT infrastructure are all provided by Splunk. Additionally, Splunk offers application, business, and IT service monitoring. This extensive analytic coverage contributes to a positive customer experience, efficient business operations, and downtime reduction.
Application delivery
Splunk provides end-to-end views into user activity, transactions, application performance, and with real-time application stack visibility. IT can swiftly distribute updates while maximising applications' cost, quality, and performance.
Security and Compliance
Splunk accelerates security investigations by monitoring real-time events, analysing past data, and visualising vast databases. Security teams can quickly produce impromptu reports and conduct thorough incident investigations.
Common use cases for security include:
Analytics and detecting fraud
Internal threat
Data security
Automation and orchestration of security operations centres
Forensics and incident investigation
Advanced threat detection
Emergency response
Compliance
Enterprise Analytics
Splunk provides access to data about intricate corporate procedures, consumer behaviour, product use, and online advertising efforts. Businesses can obtain timely and pertinent business information to help them increase revenue from respective websites or mobile apps.
Conclusion
Splunk allows organizations to combine data, engage in discussion, gain insights, act, and pursue company goals. They can uncover security vulnerabilities, improve application performance, understand client behavior, and more with the insights obtained.
Splunk makes it possible to transform unstructured data into operational, commercial, and security insight. Additionally, Splunk provides Scalable, high-performance data analytics. These analytics offer the potential of data analytics to users across the company by enabling businesses and service providers to transform machine and event data into insights.