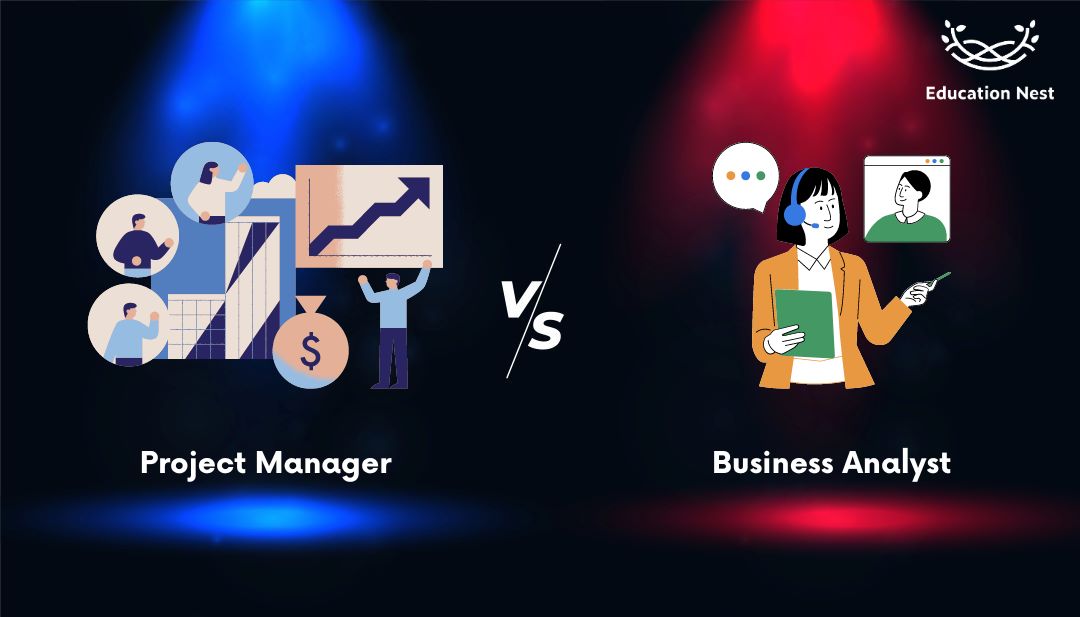 Businesses of all sizes, even small ones, frequently use business analysts and project managers to streamline a wide range of administrative tasks. Infrastructure and production methods are important to the success of a business, but so are the people who work there. Whether you're looking to fill a position or switch careers, knowing the differences between a business analyst and a project manager can help you make the best choice for your company.
In this blog, we'll look at the differences between a project manager and a business analyst. We also talk about the roles and responsibilities of project managers and business analysts, as well as how they relate to each other in the bigger picture of a project and how their payment structures are different.
Who are business analysts?
They make business decisions and make recommendations based on data from businesses and other organizations. Business analysts are trained to identify issues in a wide variety of areas, including but not limited to information technology, organizational design, and employee growth.
In order to improve the effectiveness and efficiency of a company's operations, business analysts constantly search for new areas to optimize. Typically, they collaborate closely with employees at all levels of the organization to disseminate their findings and aid in the implementation of necessary changes.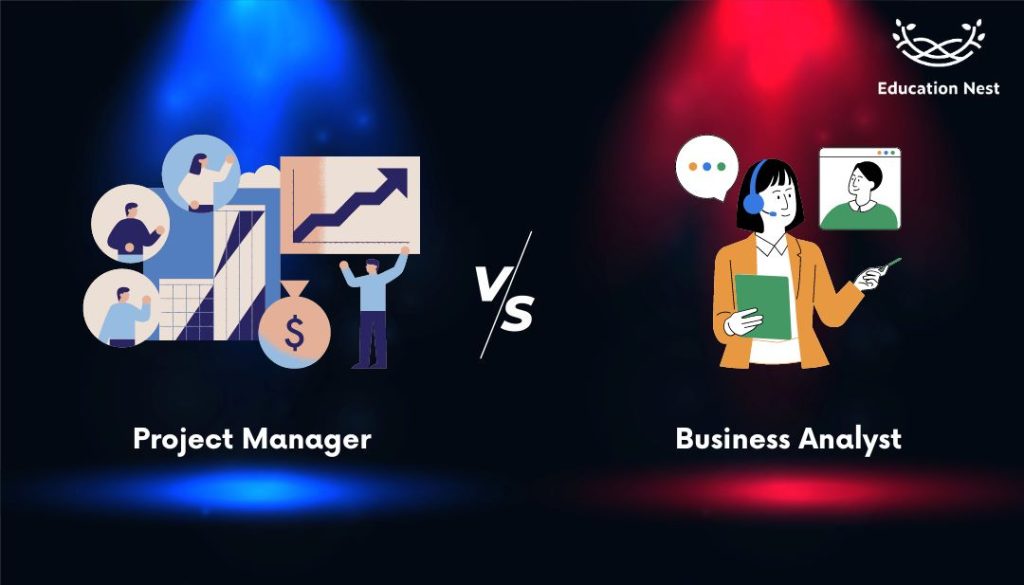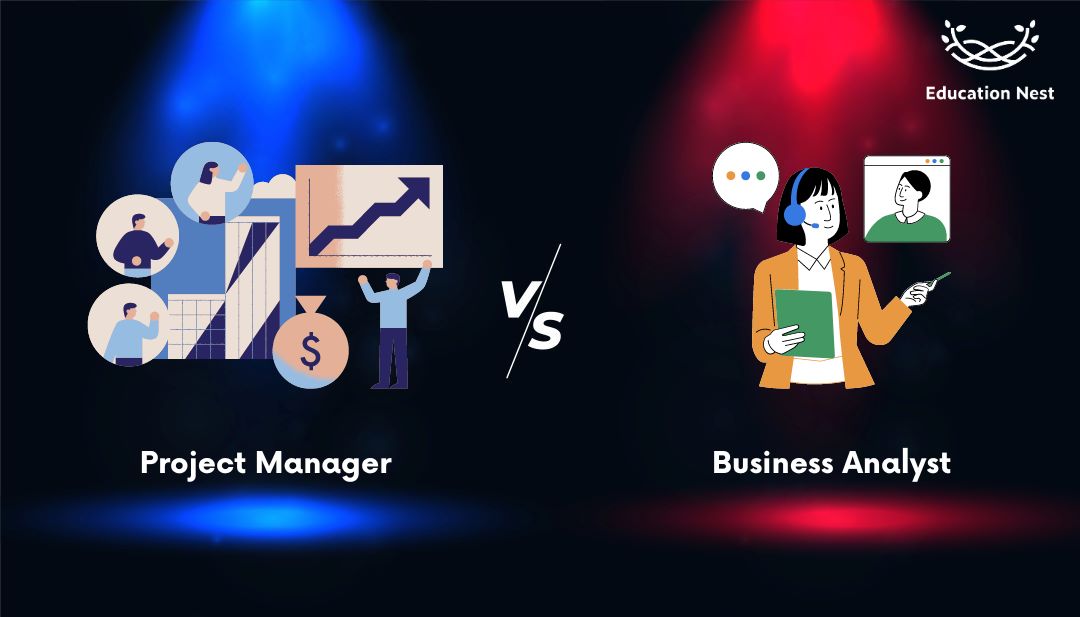 What does a business analyst do?
Many companies, both big and small, employ business analysts to work deep within the company, improving and streamlining core operations so the company can better focus on its mission and achieve its goals.
They provide the foundation for business information systems that address issues encountered by multiple divisions of an organization.
Tasks and responsibilities may include the following:
Finding and ranking the organization's functional and technical needs and requirements
Using SQL and Excel to look at big sets of data
Utilizing charts, tables, and other data visualization tools
Establishing the use of financial projections in decision-making
Knowing the strategies, goals, and needs of a business
Organizing the framework of an organization
Forecasting, budgeting, and doing both variance analysis and financial analysis
Who is a "project manager"?
A project manager is a professional who has been trained to organize, plan, and carry out projects while sticking to budgets and schedules. Whether it's a marketing campaign, building a building, making a computer program, or putting out a new product, the project manager is responsible for its success or failure.
The job of project manager is in demand in almost every field.
What does a project manager do?
A project manager (PM) is responsible for ensuring that a project is completed on time, within budget, and as per the agreed-upon scope. The PM is also the link between the company and its stakeholders.
Project managers are in charge of managing relationships during the starting, planning, executing, monitoring, and ending phases of a project. Here's a closer look at how a PM handles each phase of the project life cycle to improve efficiency and, ultimately, business growth.
Tasks and responsibilities may include the following:
Figuring out what the project will be about
Keeping to the plan
figuring out how much something will cost and sticking to a budget
Taking care of a project's resources, like teams and workers,
Keeping track of the project's progress
Talking to the people who matter
Evaluation of risks
Troubleshooting
Taking the lead in quality control
What's the difference between a business analyst and a project manager?
If you want to work in business management, you may be wondering what makes a project manager different from a business analyst. The similarities and differences between the two occupations are numerous.
The primary function of a business analyst is to collect and analyze information about a project in order to make an evaluation, while the primary function of a project manager is to direct the execution of a project.
Business Analysis vs. Project Manager: Education
A bachelor's degree in a field like business administration, finance, or information technology is typical for a business analyst. A master's degree may also be required by some employers. A business analyst needs to have a Six Sigma Green or Black Belt certification and a Certified Scrum Product Owner certification.
A project manager typically holds a bachelor's degree in business administration, engineering, or information technology and is a Project Management Professional (PMP) certified by the Project Management Institute. A PMP certification helps them show that they have a certain level of project management knowledge and experience.
Business Analysis vs. Project Manager: Career Path
Business analysts and project managers have different career paths and opportunities for advancement.
Business analysts may start their careers by working on small projects or helping more experienced analysts. In the future, they can become senior business analysts and lead teams and projects that are more complicated. A business analyst can move up to positions like solution architect or program manager with time and growth.
A project manager will often work as an assistant or coordinator before being promoted to the role. Later, they become project managers and are in charge of small to medium-sized projects. A project manager can become a senior project manager by getting more experience and showing that they can lead projects well.
Senior project managers are in charge of multiple large, complicated projects and teams. The senior project manager
Larger projects often require the assistance of senior project managers to be carried out successfully. This may include, for example, the development of complex products or the scaling of existing processes across multiple teams. In most cases, they've been working here for years.
Business Analysis vs. Project Manager: Salary Trends
In India, the average salary for a business analyst is Rs 607,006, and the average salary for a project manager is Rs 1,500,000.
A project manager can expect a higher salary than a business analyst.
Conclusion
Which of these job descriptions best fits you? We think you'll be able to answer this question confidently after reading this article because the solution is straightforward.
If you enjoy keeping things on track and want to make a living doing so, you should consider becoming a project manager.
If you're a skilled analyst who enjoys helping businesses improve their processes and define the needs of new projects, you might want to look into working as a business analyst.