Are you preparing to build a career in business analytics? If yes, you must be familiar with various business analyst interview questions and answers for freshers. Before getting any job, clearing the interview is a must. Business analytics is gaining popularity and becoming one of the most sought-after career choices. 
A business analyst's job is to act as a link between different parties by learning about technological solutions and then applying them to business needs. Business analyst jobs typically pay more than the average, have more room for advancement, and cost more overall. Whether you already work as a business analyst or want to get into the field, it's important to practise answering standard BA interview questions.
In the job market for business analysts, many qualified people have almost the same skills and years of experience. You can only convince a potential employer of your technical skills by showing them in a short amount of time.
This comprehensive blog will discuss various business analyst interview questions and answers for freshers.
A List of 15 Business Analyst Interview Questions for Freshers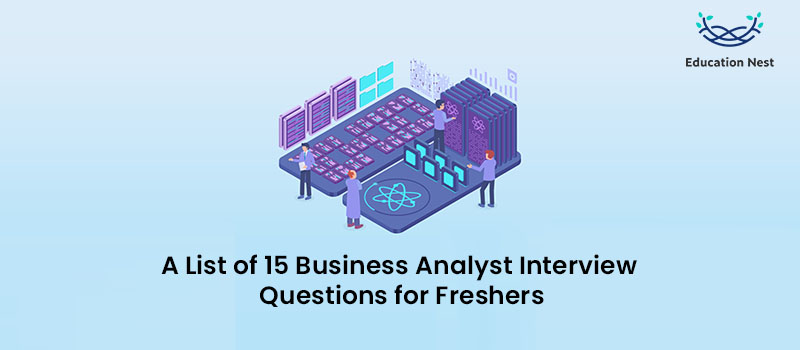 Q1. What does a company's business analyst do?
This is the most fundamental question that an interviewer can ask. To answer this question, the business analyst helps people from different departments in a company communicate with each other. A good business analyst will have the skills to help the company reach its goals and meet the needs of many different groups.
Q2. Please tell us what makes you qualified to be a business analyst at our company.
These business analyst questions aim to find out if your skills and experience are a good fit for the job.
The answer to this question has two parts:
Start by listing any classes you've taken that are directly related to the job you're applying for.
Second, give specific examples of how your background, personality, and qualifications make you an asset to the business.
During the interview, you can show how valuable you are to the company by showing examples of your past work. Remember to talk about a problem and how you solved it in your answer.
Expert advice is to show and explain your skills and expertise while also focusing on the skills listed in the job posting.
You Must Watch: Your Ultimate Guide to SQL Interview Questions and Answers
Q3. What would you say are a Business Analyst's most important skills?
During the hiring process for business analysts, this is a common question. Even though a business analyst's specific tasks may change from company to company, the essential criteria remain the same. To give a good answer, you need to know the skills listed in the job description of the company in question.
You could answer this question by saying that all business analysts must communicate and negotiate well. Some critical skills are being able to think critically, solve problems, and make good choices. A business analyst needs to know about the industry and have experience managing business processes and technical skills.
Q4. Give some examples of the tools and skills Business Analysts use.
The best way to solve this problem is to use technical and non-technical business analyst tools and skills.
Tools and technologies like Microsoft Office, Google Docs, databases, ERP software, SQL, and more have been mastered.
Expertise in documenting processes or gathering requirements unrelated to programming or business analysis.
Q5. List the steps that are needed to do a business analysis.
Getting hold of confidential information
Learn who the big players are.
Find out what the company's goal is.
Find out what options you have.
The definition's range
Explain how the distribution plan will work.
Sort out the needs of the project.
Application and assessment
Q6. How do you handle the risks in your project?
A risk is an occurrence with a high degree of uncertainty that poses a potential danger to an organisation and, as a result, might harm the organisation's income or, in some instances, its earnings. The four main risk management methods are avoidance, minimisation, transfer, and acceptance. There is a need to locate, assess, and manage any threats to a company's success.
Q7. Enumerate the many parts that make up a complete strategy analysis.
An organisation's strategic strategy should primarily focus on
Vision
Mission
Objectives
Strategies
Course of Conduct
Q8. How does business modelling work?
To model, a business is to determine what makes it unique and construct a systematic plan for running the company. Business modelling describes this methodical procedure. The plan outlines a course of action to realise the organisation's vision and purpose.
Q9. What do flowcharts show?
By using icons and lines, flowcharts may depict the whole operation of a system. It reveals the types of data required for a process, their locations, and their paths as they travel through the system to complete tasks. The issue is resolved by referring to a flowchart.
Q10. What are the most crucial abilities for a business analyst to have?
For success in the field, a business analyst has to be:
Patient and perceptive
Someone who picks up new information quickly
Equipped with keen analytical faculties
Solving issues as they arise
Well-versed in the Use of Modern Technology
Original thinker
In addition to the competencies above, a successful business analyst will also have strong verbal and written English abilities.
Q11. What does a business analyst do?
A business analyst's main job is to make sure that the customer and the development team work well together by organising and writing down requirements.
Q12. What are the most important tools needed by a business analyst?
A business analyst often uses logical software, such as Microsoft Office (Word, Excel, PowerPoint, Project, etc.).
Q13. What is SaaS?
Software as a service, sometimes known as SaaS, is a popular model for delivering computer programs to users. In some ways, it is similar to the concept of cloud computing. Unlike other software packages, this one doesn't require any other program installations on your computer. You may use it with only a web browser and access to the web.
Q14. Can you describe SRS and its main parts?
The acronym "SRS" refers to a document that details what a system or piece of software must have to function correctly. It's a bunch of papers that go over all the cool stuff an app or system can accomplish. It has everything the consumers and stakeholders need to persuade the end users.
Essential features of the SRS are:
Mission Statement
Requirements, both functional and non-functional
The Informational Model
Dependencies
Conditions and Presuppositions
Norms of Reception
Q15. What does BRD mean? What's different about it from SRS?
The Business Requirement Document is shortened to "BRD." This agreement is a legal contract between the company and the customer to make the product that was asked for.
The Business Analyst (BA) develops the Software Requirements Specification (SRS) based on the requirements outlined in the Business Requirements Document (BRD).
An SRS is made from technical knowledge and requirements, while a professional business analyst creates a BRD after meeting with customers. SRS derives its design from BRD.
The number of business analyst interview questions for freshers is enormous. This list is just an example of a few questions to give the students an idea about interview questions.