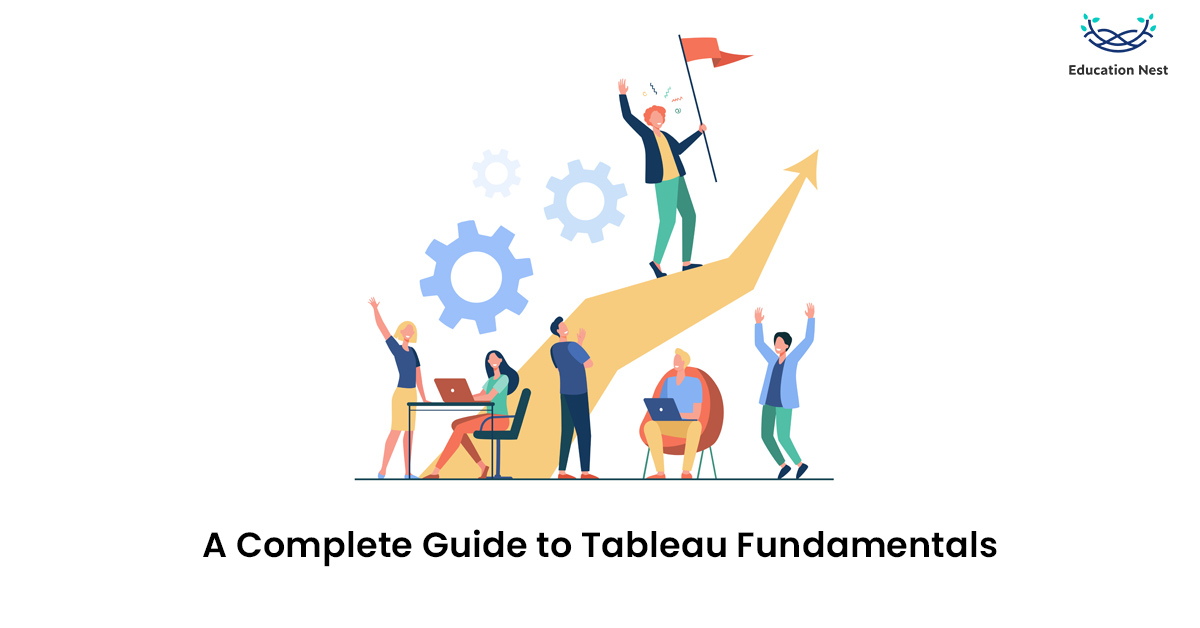 Tableau is a sophisticated data visualization tool with one of the fastest-growing markets in the business intelligence sector. You can code and customize reports using Tableau, which offers a rich feature set. 
Tableau can be used to communicate, exchange information, manage policies, create security models, and automate data.
Let's read further to gain complete insight into this dynamic and potent BI tool.
What is Tableau? 
Tableau is a business intelligence tool that emphasises data discovery and visualisation. It aids in the analysis of massive data by large organisations. Without the aid of IT personnel, one may quickly analyse, visualise, and exchange data utilising the software.
Microsoft Excel, Oracle, Microsoft SQL, Google Analytics, and SalesForce are just a few of the data sources that Tableau supports. Users can access user-friendly dashboards on this free platform, which was meticulously designed.
Tableau offers many stand-alone solutions, including Tableau Desktop, Tableau Server, and Tableau Online.
Let's look at some of the characteristics that make Tableau one of the applications best suited for business intelligence to have a deeper understanding of the software.
Prices for Tableau 
The pro version of Tableau costs each user about $35 per month. The annual membership price is around $1000.
Tableau Viewer is only $12 per month, compared to Tableau Creator's around $70 monthly cost.
Deployment in Tableau
Tableau is at the top of the list for deployment flexibility since it provides more options for cloud and on-premises deployments.
Tableau functions well even when a lot of data is stored on the cloud.
You Must Know: Tableau: Platform, Career Opportunities, and Skills required
Performance or Functionality of Tableau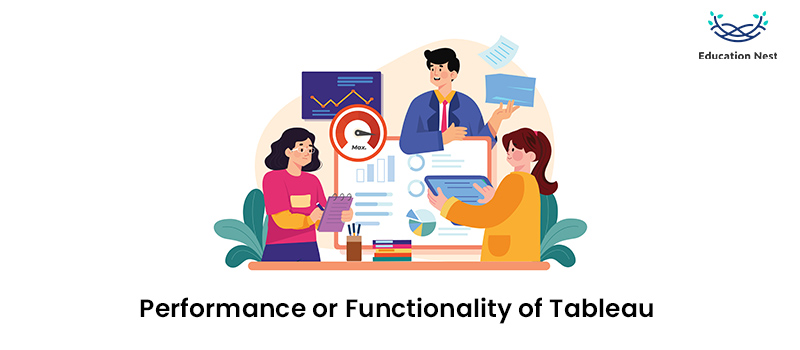 Tableau can effectively manage enormous data volumes and provides various visualisation capabilities. Due to its lack of constraints on row or data point size or the number of shown data points, Tableau allows you to see all of your data in its entirety.
Tableau offers considerably more complex ways to work with data that is deeper in scope.
Data visualisation in Tableau
Tableau is the leader in the field of data visualisation. Users can create specific dashboards that work with a number of gadgets.
It offers vibrant, interactive pictures that deepen understanding. It pushes you to hunt for patterns and opportunities by turning your search phrases into visual representations. You don't require professional training because Tableau has built-in table computations to create reports and dashboards.
User Interface in Tableau
Tableau's user-friendly interface lets you create and modify dashboards. It provides a friendly work environment that encourages data exploration and generates insightful results. The workspace has a toolbar, sidebar, page for the data source, status bar, sheet tabs, and numerous cards and shelves.
Integration in Tableau
Tableau outperforms several other BI in terms of divergent integration. Tableau has invested a lot in integrating and connecting to popular business tools. Tableau's connection interface is a little more challenging to use than other BIs. However, it successfully interacts with many databases, including Hadoop databases.
Tableau machine learning
Tableau supports Python machine learning features. We can now use machine learning algorithms to process forecast data and datasets as a result.
Support for Programs in Tableau
Tableau's R language integration is excellent. The Tableau Software Development Kit can be made using any of the four programming languages C, C++, Java, and Python. Connecting to these computer languages will enable you to create even more amazing images.
Tableau's Data Sources
The data sources and servers that Tableau Software has access to include:
Dropbox,
Google Sheets,
Google Drive,
Excel,
Text File,
PDF,
JSON,
Statistical files,
Amazon Redshift,
Cloudera Hadoop,
Google Analytics, and many more.
Tableau Product Suite
Users can select from 6 different products from Tableau based on their needs. These options allow consumers to choose the version of Tableau best suits their needs and continue with it.
They are as follows:
Tableau Desktop
Using various charts and graphs, Tableau Desktop assists in creating reports, dashboards, and stories. With Tableau Desktop, workbooks and dashboards may be shared privately or publicly.
Tableau Desktop can be further separated into the following two groups:
The Tableau Desktop Personal version's development tools are sufficiently comparable to those of the Tableau Desktop version. This version's workbook is restricted in access and is in private mode. This indicates that these workbooks are solely for personal use and cannot be posted. They must therefore be separated via Tableau Public or offline.
Tableau Desktop Professional
This version is essentially similar to Tableau Desktop, except that the work produced on Tableau Desktop is published to Tableau Server. All types of data would be completely accessible in this version. It is excellent for those who want to publish work on Tableau Server.
Tableau Server
Tableau Server is primarily used in organisations to allow various teams to access workbooks and reports developed using Tableau Desktop applications. You can use natural language to ask inquiries and get answers based on artificial intelligence.
Tableau Online
The cloud-hosted Tableau Online analytics tool allows users to publish dashboards and share findings with anybody. You may establish connections to cloud databases like Google BigQuery and Amazon Redshift. It automatically updates data from web applications like Salesforce and Google Analytics.
Tableau Public
Tableau Public They can be stored in Tableau's public cloud, which is available to everyone. Because there are no privacy settings available, anyone can download and read the files in the cloud.
Tableau Reader
Users of Tableau Reader, a free desktop programme, can see and interact with reports created with Tableau Desktop.
Mobile Tableau
Users of Tableau Mobile can access interactive previews to evaluate data and reports at any time and from any location. You may tap the smartphone app to pick, sort, and fine-tune the data.
File types in Tableau
You can save your work in Tableau using a variety of Tableau-specific file types. The various file types that Tableau supports are as follows:
Tableau Workbook .twb
This is the most used file type in Tableau for worksheets, dashboards, and story information.
Tableau Packaged Workbook .twbx
A compressed zip file that users can use to distribute their work to people without access to original data.
Tableau Data Source .tds
These files serve as quick links to the data you frequently access. Although it doesn't have the actual data, it has the connections and any alterations you've made.
Tableau Packaged Data Source .tdsx
a zip file containing the data source file as well as any local file data, including Access files, text files, local cube files., extract files (.hyper or .tde), and Excel files,
Tableau Data Extract .tde or .hyper
This has a local copy of a portion or the complete dataset used to exchange information with others when working offline and boost efficiency.
Tableau Bookmark .tbm
This allows you to store worksheets and distribute them to others so they don't have to start from the beginning and may use them in their own workbooks.
CONCLUSION
The best thing about Tableau is that it requires no programming experience or technical expertise. A drag-and-drop feature is available, and most of its features are self-explanatory. No matter the industry vertical or consumer segmentation, a platform like Tableau becomes essential for firms looking for more insightful data to expand.