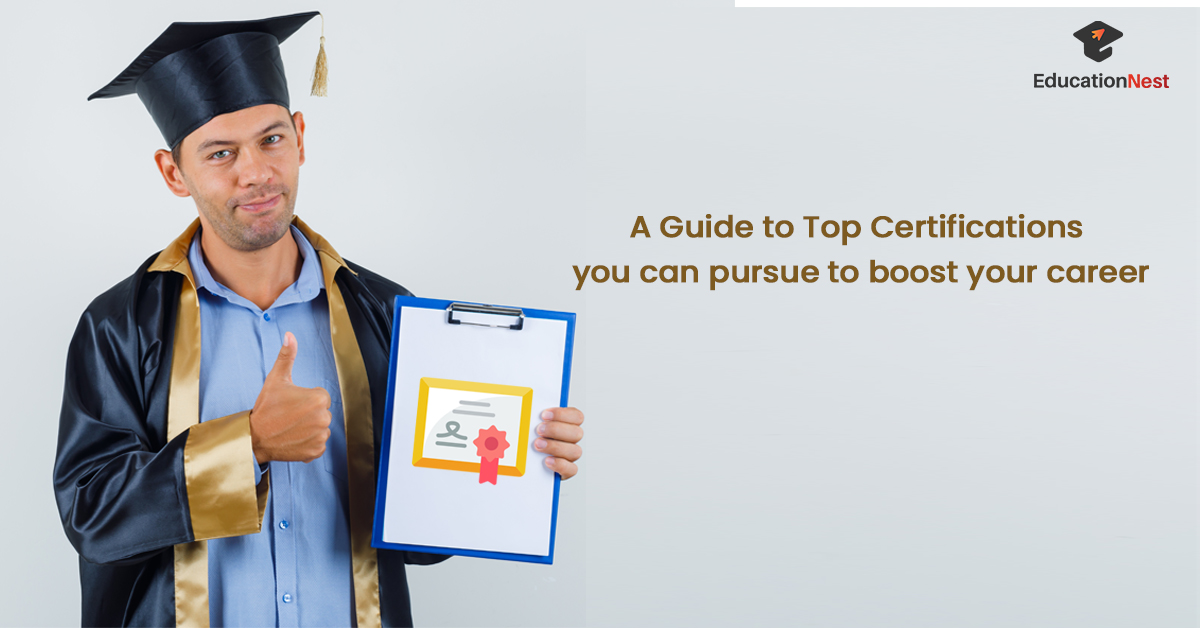 In today's competitive job market, keeping up with the times is essential. Due to the changing nature of business, there has been a greater need for qualified workers, and employers are increasingly looking for proof of relevant coursework. Many top certifications programs are available for professionals to position themselves in the job market better and increase their salaries. Professional certification courses are excellent alternatives to college degrees. Both free and paid routes are available, and you may earn recognition from reputable companies.
What Do You Understand By "Certification"?

Professional bodies provide top certifications as evidence that an individual has the requisite expertise for a specific role. Before they may be acquired, most certificates need certain criteria to be fulfilled (such as an internship, residency, or years spent in the trade).
For a person to be certified, they must first achieve certain requirements and then pass an examination. In most cases, the certification or license has a shelf life and will expire eventually if not renewed. Certification is often a prerequisite for advancement in current employers.
Some industries and professions are more likely to need certification than others. Whether or not you need a license to accomplish your job might vary by location, company, and field of study. It's not the same as having a government-issued license that allows you to engage legally in a certain line of activity.
Courses leading to the best certification, which are professional, can be finished quickly because of their short duration. The top 10 certifications 2022 mentioned belowcan help professionals get high-paying jobs quickly and easily. Professionals can pick which certification is best from this list to assist them in advancing their knowledge.
The Top Certifications 2022 Which You Can Consider
If you're seeking courses that offer the best certificates to help in better career opportunities, here are a few you must consider.
Cloud Architect Certification via Google

Top Certifications are a good choice if you want a job in the information technology sector. Opportunities for cloud architects are abundant in the information technology industry. One of the highest-paying positions in the IT sector requires a Google Qualified Professional Cloud Architect accreditation, also considered as best IT certification 2022. Anyone hoping to get employment in this field must take and qualify for the Google Qualified Professional – Cloud Architect test. This certification program can help you advance your career in the following ways:
The ability to function effectively in the cloud is crucial for every business.
The architectural community has been suffering from a lack of skilled professionals.
Employers in the information technology sector have trouble finding qualified people for available positions in the cloud.
Businesses in the IT industry are having a hard time finding capable people to fill cloud-based positions.
Certifications in Cyber Security

"Cyber security" refers to the suite of tools used to prevent intrusion into and misuse of computer networks and other sensitive data. After receiving a bachelor's degree, those interested in high-paying careers in Cyber Security may enroll in certification programs.
The Ministry of Electronics and Information Information Technology (MoE&IT) is in charge of an Autonomous Scientific Society specializing in cyber security top certification programs. The field of cyber security is an area that is increasingly being taught through accredited courses.
Certifications in DevOps Engineering

A growing need for agile development methodologies and continuous application deployments will increase the demand for DevOps specialists. Being certified in DevOps is one method to stand out from the crowd as a job prospect or employee.
Certification in Digital Marketing

One of the best certifications to undertake in the current market is digital marketing. The industry has been embraced by people from a wide range of professions. With the help of these top certifications, many people are rediscovering their hidden marketing skills. The top certification programs include the practical elements of digital marketing.
Artificial Intelligence Certification

Automation, robots, and complex pieces of software and apps will all be covered in depth throughout your AI certification training. Our healthcare system, educational system, agricultural system, financial system, transportation system, infrastructure system, cyber security system, manufacturing system, and the business system will all be profoundly affected.
Certification in Web Development

One of the best IT certifications 2022 is in web development. There is a lot of effort involved in the front end and the back end of creating online experiences for the present generation. Create anything from a simple text page to a sophisticated online app, electronic business, or social network service. Therefore, web development is a thriving career, and certifications will help you get higher-paying positions.
Related Post: Basic and Advanced Data Analysis using Excel: Overview, Benefits, Learning, and Career Opportunities
Supply Chain Certification

Gaining an internationally recognized supply chain certification will improve your employment prospects and reputation. You'll gain credibility as a supply chain management and strategy specialist. As a result of earning this top certification, your supply chain management expertise will set you apart from the crowd.
Certification in AWS Solution Architect

To become an expert in Amazon Web Services (AWS) architectural concepts and services like IAM, VPC, EC2, EBS, and more, you should enroll in AWS Solutions Architect Certification. This course will prepare you for the most recent AWS certification exam and teach you how to create and grow AWS Cloud installations per Amazon's recommendations. The average salary for solutions architects validated as proficient in Amazon Web Services is $155,000
Machine Learning

With the help of the Machine learning Course, you'll soon be a specialist in ML, an area of AI. By optimizing data analysis, computers can learn to do certain tasks without being explicitly programmed. You will become fluent in the language of machine learning. Creating algorithms requires a solid understanding of unsupervised and supervised learning, mathematics, heuristics, and practical modeling.
Data Science Certification

Data science uses a wide range of structured and unstructured datasets to inform statistics, observations, strategies, and plans. Since we now live in a highly technological society, the demand for data analysts has risen. Top firms are continuously in search of talent. Hence data science is a good alternative if you want to pursue the best certification courses.
The mentioned programs provide a taste of the most in-demand top certifications right now. By researching the finest providers, one may choose the certification course that will best advance their career.