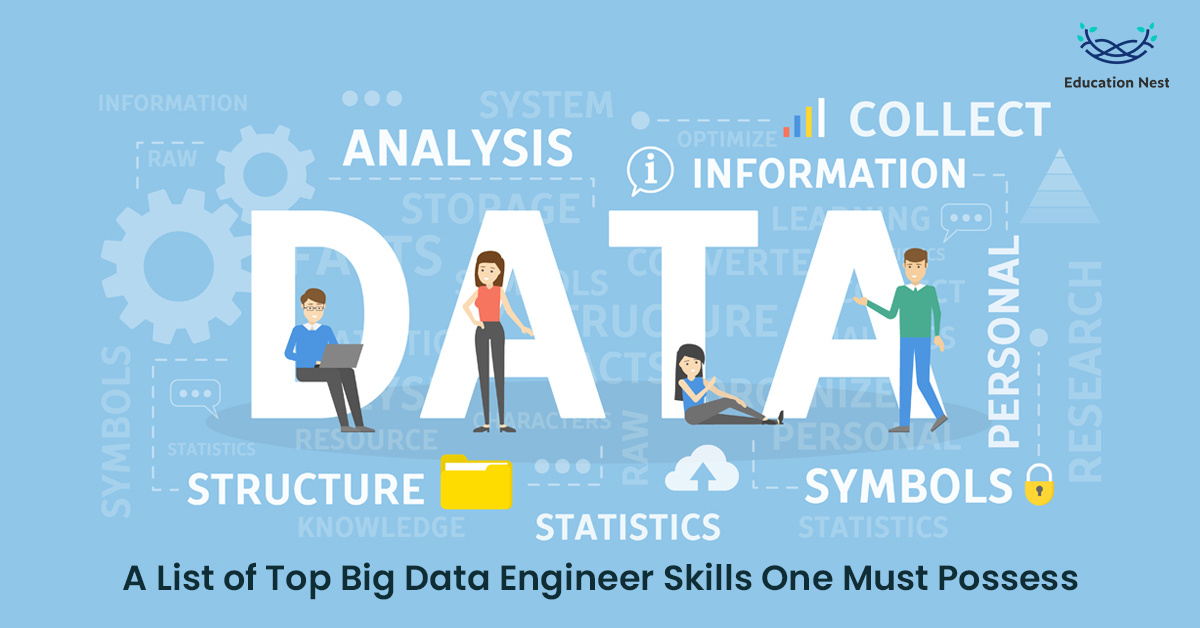 Over the last several years, Big Data and the surrounding areas have rapidly expanded available resources and methods. To use and analyze real-time data, Big Data has emerged as a solution. No organization can thrive in today's business environment without big Data engineer skills.
The term "Big Data" has recently emerged as an essential topic in the IT industry. Big data and computer science technologies are the foundation for all significant business decisions. As a result, the need for Big Data engineers in India has grown. It is predicted to rise over the next several years.
Firstly, let's learn what a big data engineer is.
Big Data Engineer: Definition
A Big Data Engineer is responsible for designing and constructing data pipelines. They also get information from different places and put it in sets that analysts and data scientists can use.
Big Data Engineer skills are responsible for a multitude of complicated datasets.
As our society grows more dependent on data systems and technologies, the role of databases in sustaining and controlling these systems and products takes on greater significance.
They also handle the administration of information.
This involves using readily available data and technologies to build a data environment for data scientists.
Integrating data into the core analytic infrastructure falls within their purview, as does select appropriate technology.
Expertise in the company's data and storing locations is just part of the picture; they must also know which technologies can best be used.
Data Engineer skills' initial phase is learning about the necessary technologies. They then design and implement a trustworthy, flexible, significant data architecture. They are responsible for the systems used to collect, store, process, and analyze data. A Big Data Engineer is considered the master of the data vault. Important information can be shared and used well across the company and its departments.
Moving forward, we will discuss big data engineering skills in this blog.
Top Big Data Engineer Skills: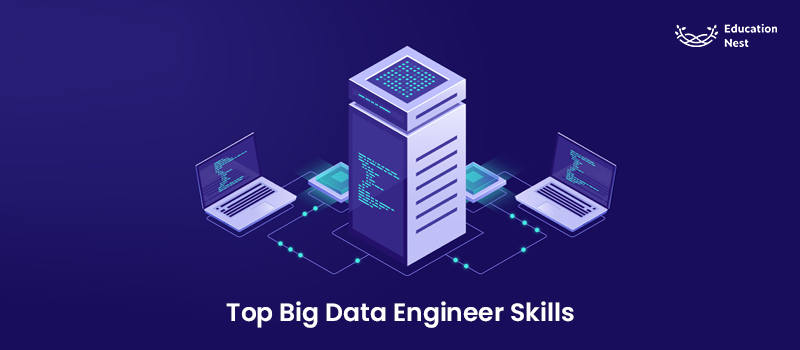 Abilities in Analytical Thinking:
Among the many necessary Big Data Skills, the ability to analyze data effectively is paramount. One needs practical mathematics and niche scientific abilities in Big Data to make sense of the complex data. Using Big Data analytics tools is a great way to pick up the analytical know-how you'll need to get to the bottom of any Big Data challenge.
Competence in Data Visualization:
Those who want to work in the field of Big Data would do well to hone their abilities in data visualization. The information must be presented correctly to get across the intended meaning. This highlights the importance of being able to visualize outcomes in this field.
One might begin by exploring the many Data Visualization settings available in various Big Data Tools and applications to better one's Data Visualization abilities. And because imagination and creativity are valuable Big Data engineering skills, this will also help students develop them. Expertise in visual data interpretation is essential for every data professional.
Knowledge of the Business World and Big Data Tools:
Big data technologies are used to extract and evaluate insights from large databases. Assume they want to gain a better understanding of the data. In that case, prominent data experts will benefit from a deeper understanding of the business domain and, more specifically, the business domain of the data they are working with if they are to get a deeper understanding of the data.
You Must Watch: A List of Data Science Tools You Must Know About 
Software Engineering Abilities:
Big Data professionals benefit from knowing and using a variety of computer languages, including Scala, C, Python, Java, and many more. Data analytics experts are in great demand among employers.
One needs a solid grounding in Algorithms, Data Structures, and Object-Oriented Programming Languages to become a top-notch Big Data Professional. The ability to perform and code Quantitative and Statistical Analysis is crucial in the Big Data Market.
One must also be mathematically and logically proficient. The skillset of a Big Data Professional should include the ability to categorize data and an understanding of algorithms and other data processing techniques. Working with databases is essential for processing today's massive data sets. Having a solid technical and analytical background will take you far in life.
Possessing the Capacity to Analyze and Resolve:
In the realm of Big Data, problem-solving skills may take you far. The lack of organization in Big Data is seen as a significant issue. The perfect candidate for a job in the Big Data industry is someone who enjoys working to find solutions. They can think of a more elegant solution to the issue thanks to their originality. There is a ceiling at which any knowledge or ability will no longer be applicable. Thinking creatively and solving problems is even more crucial for success in the Big Data industry.
Structured Query Language, or SQL:
Structured Query Language (SQL) is a foundation in the age of Big Data. The focus of Structured Query Language is on data. A programmer's familiarity with SQL will serve them well when dealing with Big data technologies like NoSQL.
Data Mining Abilities:
Data mining experts are in great demand. The best way to move up in your job would be to learn how to use data mining techniques and technologies. Learn the most in-demand data mining skills with the help of industry-leading software like KNIME, Apache Mahout, Rapid Miner, and many more.
Knowledge of Modern Technology:
Workers in the Big Data Industry should be well-versed in the many technologies and tools utilized in the field. The Data techniques aid in the analysis and conclusion of the research.
Scala, Hadoop, Linux, MatLab, R, SAS, SQL, Excel, SPSS, and many other big data tools and technologies are ideal for working with. Professionals with solid programming and statistical acumen are in great demand.
Understanding of Public and Hybrid Clouds:
Most Big Data groups will have some cloud infrastructure to keep data safe and guarantee its constant availability. Companies use cloud computing for data storage because it is more cost-effective than constructing their storage facilities. Depending on needs and company policy, data may be kept on-premises or in the cloud. Many companies employ a hybrid cloud strategy.
Amazon Web Services (AWS), Microsoft Azure, Alibaba Cloud, etc., are just a few of the public clouds that should be familiar to you. OpenStack, Vagrant, Openshift, Docker, Kubernetes, etc., are just a few of the in-house cloud technologies available.
Extensive practical training:
If you want to work with big data, you must first learn how to use the tools in the field. Short-term classes are another option for those who wish to master technology quickly. If you know a lot about new technology, you can understand the data better using modern methods. Their engagement with the information will help them stand out from the competition.
This article outlines the essential abilities that Big Data engineers need to succeed. To move up in your chosen field, get the proper credentials and brush up on the skills listed.