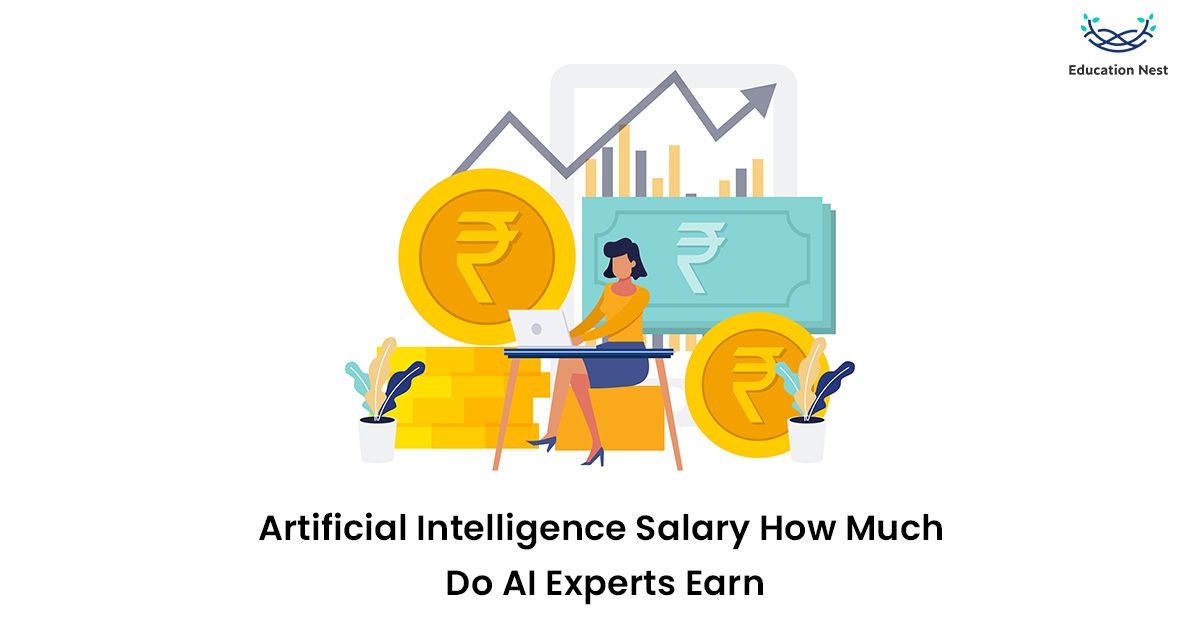 Have you ever wondered what an artificial intelligence salary is? The number of jobs in artificial intelligence (AI) is growing as more industries use it. Some researchers in the field of artificial intelligence (AI) worry that the technology will put many people out of work, while others say that it will create many new jobs that are good for people. If you want to work in AI, you should keep working hard and prepare for a rewarding career. 
When we talk about intelligence, we mean the ability to think abstractly, store information, and use it correctly.
AI, which stands for "artificial intelligence," is the same idea put into machines.
With the help of science and computer programming, people are making software with artificial intelligence (AI) that can understand and copy how people think.
Even though they are different, deep learning, machine learning, big data, and AI are all used interchangeably.
With the rise of AI, there is now a lot of automation in the IT industry.
What makes AI so important? Because it makes it possible to look at data in more depth, with more accuracy, and, most importantly, to give an inanimate object a personality. This blog will talk about an AI engineer's salary.
Several things could affect an AI engineer's salary
Experience
Job Roles
Geography
Skills and Knowledge
Let us begin by learning what an artificial intelligence engineer does. 
You Must Watch: Artificial Intelligence for a Better Future: A Collection of its Benefits
Responsibilities of an Artificial Intelligence Engineer: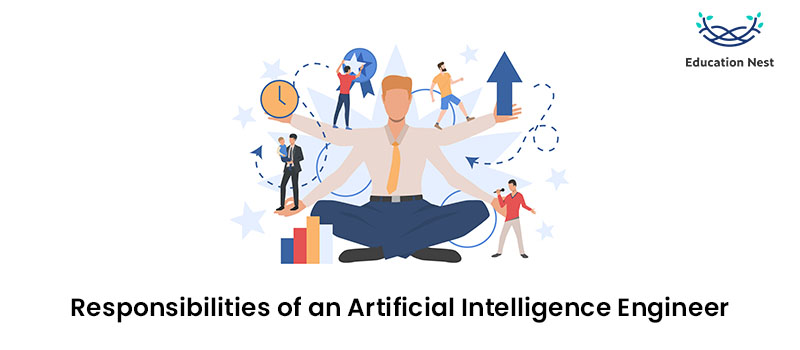 AI engineers create models that can learn from data and make decisions based on how those models see the world. An AI specialist's job is to give a system more ways to take in information and send it out. The central position of an AI specialist is to put cognitive abilities into machines and test them in many different ways.
Build and improve AI models, then teach people about the value of the technology.
Meet with the customer or business owner, conduct surveys, collect relevant data, and weigh the results.
Make an API out of the machine code to ensure the AI works and that the application developer can access the data to visualise it.
Every task that can be done without using your brain or processing data should be done that way.
Do a statistical analysis, and then explain the results.
Please keep track of the AI models already in use and improve them.
Get a feel for the administrative capacities and build the models according to the company's requirements.
What are the skills required to become an AI engineer?
For a successful career in artificial intelligence, you need an excellent academic record, a solid background in programming, a well-rounded profile with projects related to the candidate's areas of interest, and a grasp of computer management systems, analysis, mathematics, communication, psychology, etc.
Programming Language:
A person who works in AI must be able to code in at least one language, if not more. It's important because almost everything is done digitally, and updating the models takes constant work. The better someone is at programming, the better their duties will be. One can learn one or more of the many popular programming languages, such as C++, Ruby, Python, Java, etc.
Linear algebra, numbers, statistics, and chances:
The models will be successful because they are based on maths. You need maths skills to deal with a wide range of equations, figure out how to evaluate them, and come up with results that make sense given the parameters.
Big Data:
An expert in AI often works with vast sets of data as part of their job. Managing databases and data stores like MySQL, Apache Spark, Hadoop, and so on is easier if you know how they work.
Problem Solving:
There could be an infinite number of problems for experts in artificial intelligence. So, it's crucial to be able to think quickly on your feet and find solutions.
Communication Skills:
Building a model is only half the battle; putting it into everyday language is just as essential. So, an AI expert needs to be able to communicate well both verbally and in writing.
AI Engineer Salary based on experience:
An AI engineer's salary ranges from $80,000 to $1 million annually. Because of this, someone with more than ten years of experience is thought to have a solid grasp of the whole AI paradigm. When an AI engineer changes jobs, their salary could go up by as much as 80%, but the average salary increase across all industries is between 20% and 30%.
Salary trends based on expertise:
AI Engineer Salary at Entry Level
There are two kinds of entry-level AI engineers: those who just graduated from college and those who have worked in the field before. They are looking for their first job as AI engineers, but this is the first time they have done it. Because they put education first, these specialists have been able to learn more effectively. Also, many companies are hiring AI engineering interns to meet the growing service demand. So, the pay range for AI engineers is the lowest of all the groups that matter.
An AI engineer makes an average of $600,000 a year.
AI Engineer Salary at Mid-Level
Middle-tier AI engineers are the most common, and businesses that use cognitive technology usually look for them the most. The mid-level AI Engineer salary is higher than the entry-level AI Engineer salary, but compensation is more flexible. They know a lot about the business and usually stay with the same company for a long time. They are the most consistent group, even though they are improving.
In addition to the skills of a beginner AI engineer, they can also use the following:
Analysis of Computer Vision Data
Modelling with information
Image processing with deep learning
The processing of natural language
Most job boards and staffing agencies use the salary of an intermediate-level AI engineer to describe the average income of an AI engineer. So, it's safe to assume that their pay range is more than that of an entry-level Intelligence Engineer but less than that of a senior-level AI Engineer.
Expat Investor says that an AI engineer with 2–4 years of experience makes an average of $1.5–2 million per year, while someone with 4–8 years of experience can make up to $2.5–5 million per year.
AI Engineer Salary at Senior Level
Senior AI engineers get the best pay in the field because they know more and are better at what they do. One survey found that only about 4% of AI developers in India make more than $5,000,000 per year, so it's clear that there's a huge need for both experienced and new professionals in this field. The data also shows that people's pay expectations are increasing in many industries, such as healthcare, e-commerce, and finance.
Engineers with 8–15 years of experience in AI can expect to make between $5 and $10 million per year.
How much do machine learning engineers make?
Many people want to work in this area of artificial intelligence. To be a machine learning engineer, you need to be able to think creatively about software development, know how to implement predictive models, and use natural language processing (NLP) while working with a lot of statistics.
Median Salary of ML engineer: US$121,106
Location-based pay for an AI Engineer
The average wage of an AI engineer varies significantly from country to country. On their website, Expat Investor lists some of the best countries with growing businesses where you might want to live and work.
United States of America:
Partially, they are interested in senior posts due to a worldwide shortage of skills. The average annual salary for AI engineers in the United States is $314,000.
The United Kingdom:
IT Jobs Watch says that the median salary for an advertised AI job is £60,000 per year, with the top 10% of opportunities paying a median of £105,500 per year.
Canada:
Experts in their field might earn an annual salary of $70,000 to $90,000.
India:
With two to four years of experience, an AI engineer's salary in India can be between 15 and 2,000,000 INR annually.
AI is the main focus of the tech industry right now. You'll have to learn many things and get very good at them. You'll fit in well in artificial intelligence if you like having a lot of freedom at work and want to spend more time doing things you enjoy.