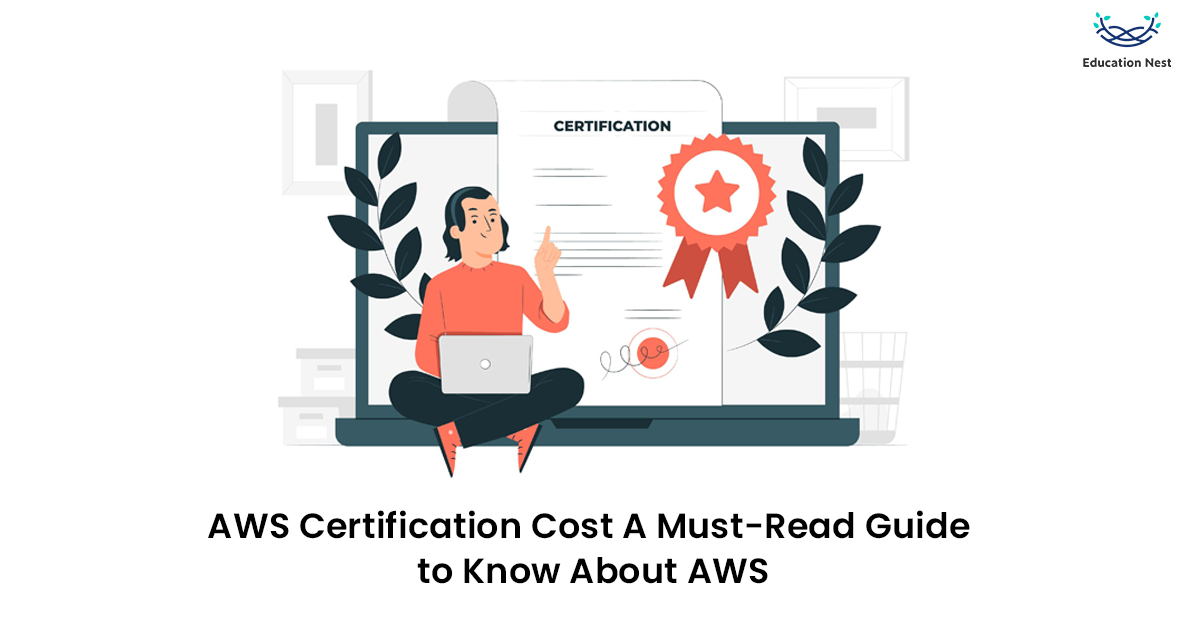 Amazon Web Services (AWS), a leader in cloud computing, has AWS certifications that are respected and valued throughout the IT industry. Amazon Web Services offers credentials based on both skills and roles. This lets applicants show they are good at working in the cloud and improves their reputation. It also makes it easier for businesses to find qualified cloud specialists among the applicants and hire the best people to lead their cloud projects. This blog will discuss how much AWS certification costs in India. 
Depending on the level of certification you want, you must pass one or more tests to become an Amazon Web Services (AWS) certified professional. After the date of accreditation, these credentials are still good for three years. To keep your AWS certification active, you must pass a recertification exam before your current certification expires. This shows that you are still knowledgeable about AWS.
Find Out More About AWS Certifications
Getting an AWS credential shows you know how to use the platform well. They offer a possible employer that you know how to do a specific set of things well.
Even if you have an AWS credential, you still have a little experience. Certification is not enough if you have never worked before. But there are some great AWS cloud training classes where you can get hands-on experience. If you still need to gain a lot of experience, this could help your career.
When you get an AWS credential, you can do more things. Your qualifications in this area will show a possible employer that you can be trusted with your skills. Even though these credentials might help, getting a job is not a given. They can show you how to do things, but you'll have to work hard if you want to do well.
People want all of the different AWS certifications. With an AWS certification, a person can expect to make an average of $100,000 annually. Because of this, an AWS certification is one of the most valuable certifications you can get.
Getting an AWS certification has more benefits than just a raise in pay. By comparing your skills to those of other people in the same field, you can ensure they are up to par. When someone on a team has an AWS certification, it shows they can be trusted.
When deciding which AWS certifications to get, consider each as a step toward your ultimate goal.
The more you get, the closer you get to mastery. But you'll have to work hard if you want your credentials to matter.
It has never been easier to earn an AWS certification. You can continue your current job to be ready. Instead, you can use online certification training, private tutoring, and on-the-job training.
Before learning about AWS certification prices in India, let's first discuss the various types of AWS certifications available.
Various AWS Certifications Available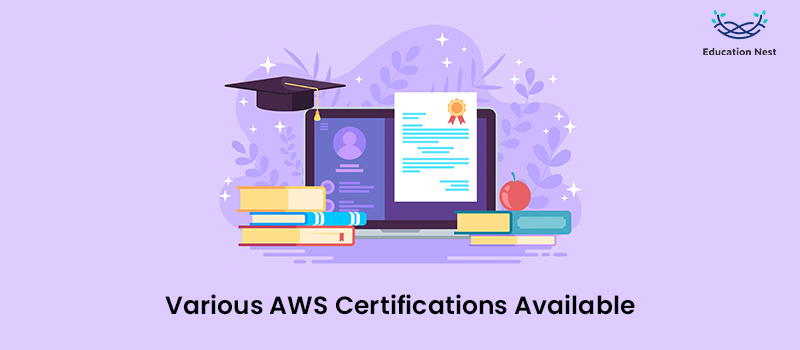 AWS Certified Cloud Practitioner
This certification training helps you learn about the different roles of cloud services and gives you a way to show that you know how to use AWS Cloud, which boosts your credibility as an IT expert.
By the end of this course, you'll know the following:
Knowing the most basic rules of AWS architecture
What are the pros of the AWS cloud?
Essential AWS cloud hosting features and how to use them
Security model based on security, compliance, and shared responsibility.
How to set up and run a cloud service
AWS Certified Solutions Architect — Associate
It is a certification course for associates that helps you show that you know how to use AWS technologies to design and implement a safe and reliable application.
You will know the following after the course:
Learn about the network technologies used by Amazon Web Services (AWS), how they work, and how user interfaces connect to the AWS cloud.
AWS practices for data security, plans for dealing with disasters, and ways to fix problems.
You will also know how to use the AWS infrastructure to build strong and safe apps.
Putting up hybrid systems with parts from on-premises data centres and AWS
This AWS exam course goes over how to design highly available and scalable systems and how to implement and deploy them on an AWS server.
Associate-level AWS Developer
The AWS Certified Developer exam qualifies someone at the associate level. This course will teach you how to make and manage applications that run on Amazon Web Services. This will help you get ready for the test. In this course, you will learn what you need to know to write code prepared for production and integrate Amazon Web Services into your business.
When you're done with this course, you'll learn the following:
Designing, building, deploying, and maintaining AWS applications with your own hands.
Amazon Web Services (AWS) has many services, including hosting databases, alerting, workflow, storage, and version control.
Associate sysops administrator for AWS
System administrators are the only target audience for the AWS Certified SysOps Administrator Associate certification exam. To pass this test, you'll need hands-on experience with AWS and a good understanding of how everything fits together.
By the end of this course, you will know the following:
How to put programmes on the AWS platform
Find out how to send and receive data between data centres and Amazon Web Services (AWS).
How to decide which AWS services are best for your business
Setting up, running, fixing, and protecting structures in the AWS cloud
AWS solution architect – Professional
Amazon Web Services (AWS) offers certification as a skilled AWS architect for those in charge of assessing a business's needs and giving architectural advice for building and launching applications on AWS.
You will learn the following after course:
Find out how to build and design apps on AWS in the best way.
How to move complex application structures to AWS
How to choose the right AWS service for an application
Knowledge of ways to cut costs
The AWS Certified DevOps Engineer – Professional
The DevOps Engineer training and certification programme focuses on skills in managing, developing, and running AWS. The course is primarily about two main ideas: creating continuous delivery and automating processes.
When this AWS certification is over, you'll know the following:
Modern CD methods and the idea of continuous development
Plans for putting CD-based programmes in place
Set up, watch, log, and take care of systems on an AWS server.
Specialisation in AWS Certified Big Data
The AWS Certified Big Data-Specialty certification is for people with experience with data analytics and who have used different AWS services to design the most reliable big data solutions.
When this AWS certification is over, you'll know:
How to deploy AWS's big data service solutions using best practices in AWS architecture.
Tools from AWS that make it easier to analyse data
You'll learn how to keep data safe by using access control.
The course teaches how to make big data applications and keep them running.
You Must Watch: A List of Top Big Data Engineer Skills One Must Possess
Lastly, we'll talk about the different AWS Certification fees in India.
List of Popular AWS Certification Costs in India
Associate Level Courses-
AWS Certified Solutions Architect: Rs. 10710
AWS Certified Developer: Rs. 10710
AWS Certified SysOps Administrator: Rs. 10710
Professional Level Courses-
AWS Certified Solutions Architect: Rs. 21420
AWS Certified DevOps Engineer: Rs. 21420
Specialised Certification Courses-
Certified Security: Rs. 21420
Certified Big Data: Rs. 21420
Certified Advanced Networking: Rs. 21420
Certified Machine Learning: Rs. 21420
Practitioner Course-
AWS Cloud Practitioner Course: Rs. 7140
The details mentioned above cover every detail about AWS certification fees in India.
AWS's already stellar reputation throughout the world continues to soar. With the rise of cloud computing, getting an AWS certification has evolved from a nice-to-have to a need. Earning an AWS certificate is a significant first step if you want to advance your career and broaden your technological horizons.