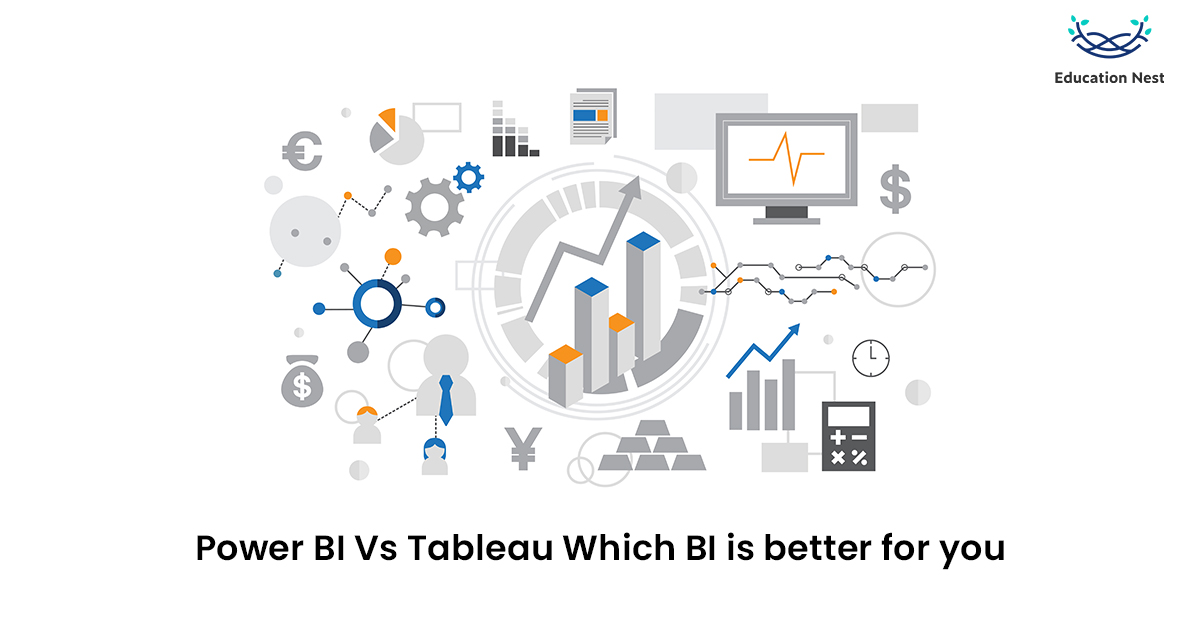 Power BI vs Tableau are two of the most important Business Intelligence (BI) technologies that help users interpret corporate data and derive insights by performing data analysis, manipulation, and visualization.
Power BI and Tableau are both efficient BI tools that make it easier for data scientists to analyze. In this article, we will elaborate on the difference between Power BI and Tableau so that users can decide which application is best suited for their requirements. 
Microsoft Power BI
Power BI is a group of software services, applications, and connectors that combine to transform your diverse data into meaningful, engaging visuals and interactive insight.
Microsoft Power BI visualization tool is a web-based package of corporate analytics tools that excel in data visualization. Its features let the user identify real-time patterns and help improve their campaigns. 
Users can deliver reports and real-time dashboards using this software and integrate their apps. An Excel spreadsheet or a combination of cloud/premise-based hybrid data warehouses can serve as the input data.
Power BI makes it simple to connect your data sources, view the data, identify the most crucial information, and share it with whomever you want.
Tableau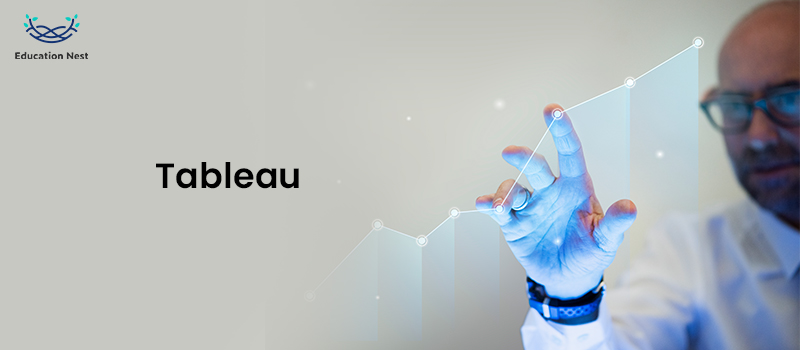 Tableau is a business intelligence application focusing on data discovery and visualisation. It helps large corporations in analysing big data. One can quickly analyse, visualise, and share data using the software without IT personnel's assistance.
Tableau supports various data sources, including MS Excel, Oracle, MS SQL, Google Analytics, and SalesForce. It is a free platform where users also have access to user-friendly dashboards that have been thoughtfully built.
Tableau provides several independent solutions, such as Tableau Desktop, Tableau Server, Tableau Online, and many others.
The difference between Power BI and Tableau can be divided into various categories such as price points, deployment and data handling capabilities, amongst various other features. Let us take an in-depth look at each of the classes-
Deployment
Tableau tops the list regarding deployment flexibility because it offers more cloud-based and on-premises alternatives.
Tableau performs well when a lot of data is saved in the cloud.
Power BI only works with Azure in the cloud, despite having on-premises and cloud versions. This limits the degree of flexibility that Power BI provides.
You Must Like: Popular BI and Data Visualization Tools You Need to Know About
Massive amounts of data reduce Power BI's performance.
Data Visualisation
The drag-and-drop feature offered by Power BI is simple to use. It offers tools that make data more aesthetically pleasing. Power BI provides a variety of in-depth and eye-catching visuals to build reports and dashboards.
You may ask questions about your data using the Power BI service, and it will respond with insightful answers.
In terms of data visualisation, Tableau leads the industry. Users can design unique dashboards that are compatible with a variety of devices.
It provides dynamic, interactive images that enhance insights. It can convert your search terms into visual representations and encourages you to look for patterns and opportunities. Since Tableau includes built-in table computations to produce reports and dashboards, you don't need formal training.
Cost
Tableau's pro model charges around $35 per month for each user. The yearly membership fee is about $1000.
The monthly cost of Tableau Creator is about $70, whereas the monthly fee of Tableau Viewer is $12.
The BI professional version would cost a user around $10 per month. The annual subscription costs around $100.
Power BI Premium costs $4,995 per month and is licensed by specific cloud computing and storage resources.
User Interface
Power BI has an easy-to-use interface and is compatible with other Microsoft applications. The Power BI interface is simpler to use and learn. It is simple to use and enhances your productivity. The report view, the data view, and the model view are the three views offered by Power BI Desktop that you can choose from on the left side of the canvas.
You can design and alter dashboards using Tableau's intuitive user interface. It offers a welcoming workplace that invites you to explore data and produce intelligent outcomes. The workspace includes various cards and shelves, a toolbar, a sidebar, a page for the data source, a status bar, and sheet tabs.
Integration
Salesforce, Microsoft applications, Google Analytics and email marketing all have pre-built dashboards and API access through Power BI. You can download files or connect to services within your business to create your visualisations. The "Get Data" button will allow you to connect any data to Power BI.
Hadoop databases can't be accessed with Power BI.
Regarding divergent integration, Tableau beats Power BI. Tableau made significant investments in connections and integrations with well-liked business tools. Compared to Power BI, Tableau's connection interface is a little more complicated. It integrates effectively with a variety of databases, including Hadoop databases.
Functionality or Performance
While the data volume is small, Power BI runs more quickly and effectively but gets slow when processing bulk data. When compared to Tableau, Power BI is significantly less functional.
Tableau offers a wide range of data visualisation tools and can handle massive volumes of data efficiently.
Tableau gives you a complete view of your data by not imposing row or size restrictions or restricting the number of data points displayed.
Tableau outperforms Power BI as it offers considerably more complex ways to work with data that is deeper in scope.
Machine learning
Power BI benefits from Microsoft's business analytics, which includes tools like Azure Machine Learning, Analysis Services based on SQL Server, real-time data streaming, and many Azure databases.
These tools assist in understanding the data and analysing its trends and patterns.
Tableau supports Python machine-learning features. This enables us to process forecast data and datasets using machine learning techniques.
Programme Support
Power BI supports M language and Data Analysis Expression for data modelling and manipulation. Microsoft Revolution Analytics can also connect to the R programming language, although this feature is only accessible to enterprise-level customers.
Tableau's R language integration is far superior to Power BI's. Any four programming languages—C, C++, Java, and Python—can be used to create the Tableau Software Development Kit. You can make even more impressive graphics by connecting to these computer languages.
Data Sources
Power BI supports a variety of data sources. It has less access to databases and servers compared to Tableau.
Microsoft Excel, Text/CSV, Folders, MS SQL Server, Access DB, Oracle, IBM DB2, MySQL, PostgreSQL, and more examples are a few of the instances.
Tableau Software has access to a wide range of data sources and servers, including Dropbox, Google Sheets, Google Drive, Excel, Text File, PDF, JSON, statistical files, Amazon Redshift, Cloudera Hadoop, Google Analytics, and others.
You can select between Power BI and Tableau as business intelligence tools by reading the benefits and cons listed. You can determine which tool will meet your needs more by comparing Tableau and Microsoft Power BI above.
Tableau triumphs in speed and abilities. Power BI triumphs in ease of usability. Small organizations should begin using Power BI if they have limited human and financial resources, primarily when they already use Microsoft products. 
Tableau, however, will be better for medium-sized and large-sized businesses that value data analytics and have the human resources to support them because it can ensure the outstanding quality of visualizations.