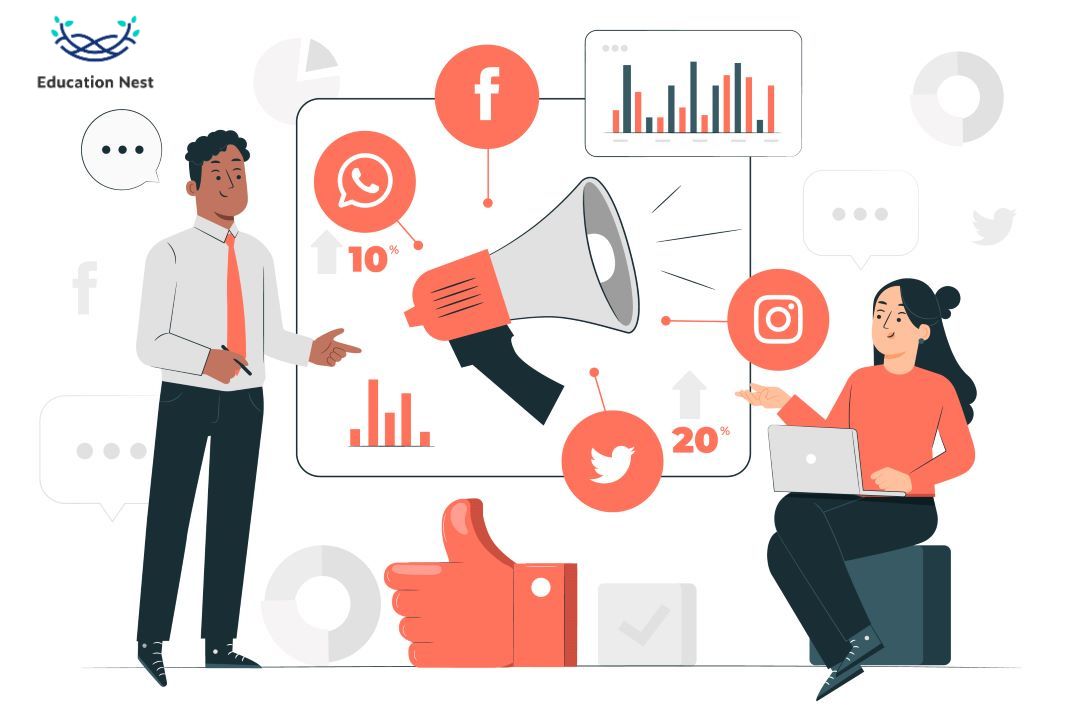 It's a new era. Social media marketing is more than just posting multiple times a day on Facebook and Twitter. Developing a brand, getting prospects interested, getting SEO benefits, and growing sales take time and work.
Without a doubt, you have to stand out from your competitors, the buzz of social media, and people like influencers, celebrities, and other well-known people.
Indeed, using social media effectively requires a good plan.
You'll need to think outside the usual social media channels. You must find new and effective ways to communicate your message to your audience. Well, this blog is all about Social Media Marketing. We will discuss what it is, its benefits, and much more. So, without further ado, let's begin.
First, let's understand social media marketing in brief.
Social Media Marketing: Meaning
"Social media marketing" (SMM) is when a business promotes its products by participating in online social networks.
But this definition is missing something significant. Hence, let's make it easier to understand:
"Social media marketing" is defined as "the process of making content that is customized for each social media platform to increase engagement and promote your business."
Undoubtedly, the main goal of social media marketing is to connect with your target market and teach them about your brand. In fact, it's a great thing for the growth of your business.
Let's say you're meeting someone for the first time. You wish to build a strong relationship with them.
How can you ensure that person likes you the first time they meet you since you probably won't get a second chance? Do you think you'll be able to meet that person if you say something boring or pointless?
When you make other people happy, no matter how you do it, they will like you more.
Like in the real world, your social media marketing will only succeed if you observe and please your target audience. This will make people more loyal to the brand and tell more stories about it.
Certainly, your social media marketing won't go anywhere if your story isn't interesting.
Next, let's understand why social media marketing is so important.
Why is Social Media Marketing Important?
Social media sites like Facebook, Instagram, LinkedIn, Twitter, and newer ones like TikTok allow marketers to connect with and talk to potential users. Managers can get their audience excited by using social media well and making content that people can interact with.
Businesses use different kinds of media to tell people about their history, explain why their services are important, and showcase their products.
In fact, brands can build trust with customers, competitors, and potential employees by using social media to encourage direct conversation. This is important to think about if third parties are reselling your company's name, products, or services. Consumers trust suggestions from friends and family more than recommendations from official brand platforms.
Social media marketing is considered successful when a brand can establish a successful connection with its audience. The higher the CTR (Click-through rate), the more successful is your social media marketing.
Following this, we will discuss the common terms you must know before building a social media marketing strategy.
Common Terms in Social Media Marketing Strategy
This list of key terms here will help you learn the basics of social media marketing.
Content
Content is just anything that is shared on social media. A status update can be anything from text to a photo or a video to a Tweet.
There are many different kinds of content; you need to change each for how it will be shared. However, context is more important than content.
Context
If you write a 3,000-word blog post with a funny joke, not many people will read it. But the same joke told as a tweet can reach millions.
Additionally, everyone can join in on the action.
In fact, the opposite is also true. Instead of trying to fit your whole blog post into a single tweet, focus on writing a compelling call to action and including hashtags related to your post. This brings us to hashtags.
Hashtags
Hashtags are a popular way to add metadata to many social media posts. Undeniably, hashtags help social media sites like Twitter, Facebook, Instagram, and LinkedIn organize and label content.
They make it easier for people to find your content, which makes it more likely they will share it.
Shares
Shares are a good way to determine how valuable a social media account is.
It's great when people respond to what you've written and ask questions. The real joy, though, comes from sharing it with other people.
In fact, the more times something is shared, the more popular it becomes. A person's level of engagement can be measured in shares.
Engagement
This is a catch-all phrase for how the people who see your work interact with it. Obviously, likes, comments, and shares are all important. Shares are most valuable and always worth it.
Well, these are the basics of social media marketing. Stay connected with us, as we will cover deeper aspects of social media marketing in our future blogs.
Conclusion
Summing up, using social media to promote your business, its brand, and its products is a great way to reach a large audience at a low cost. Customers can learn about what you have to offer through social media. You can use social media to benefit yourself and make money if you put in the time and effort to learn how it works and how to manage it.