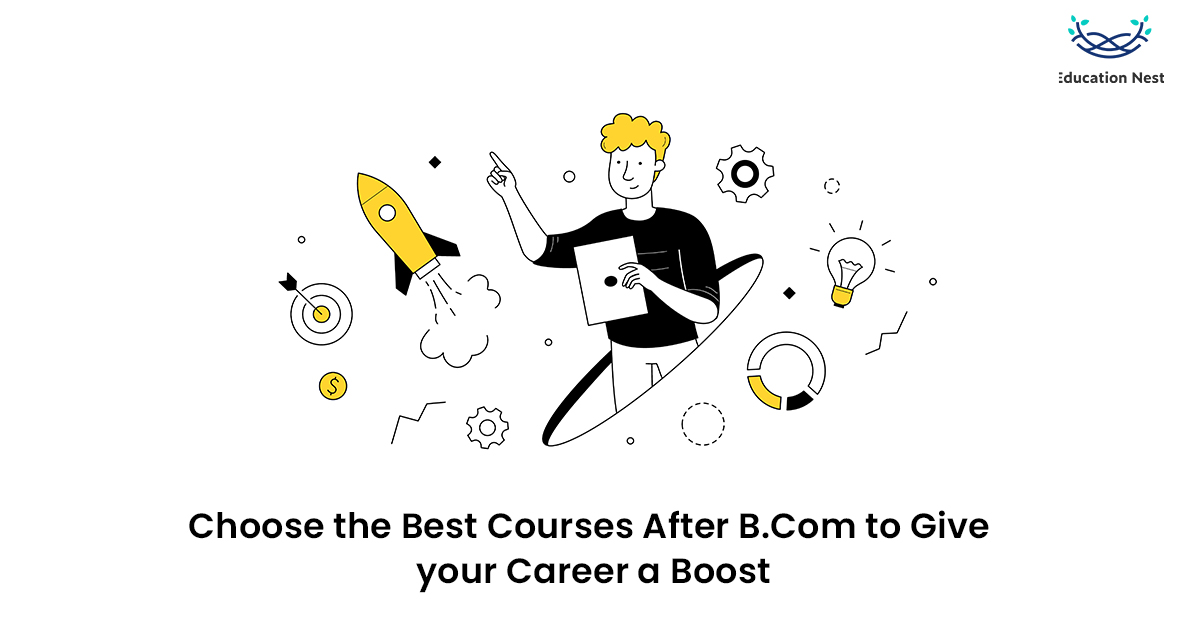 Do you want to know which professional courses after b.com can help you get a high-paying job? Or you may need clarification on which courses after a b.com. will help your career. Here in this article, we will discuss your career choices after completing your B.Com.
To begin, I'll mention that a Bachelor of Commerce (B.Com.) degree is a popular choice for college-bound Indian kids. However, there's a lot of competition for decent jobs among recent B.Com graduates. Our research shows that a bachelor's degree in business is no longer guaranteed a job or success in the workplace.
Also, today's job market is very competitive, so it takes more to get a job with a good salary. Even 12th graders need to figure out what they want to do with their lives and are looking for jobs to help them succeed. Jobs after B.com are easy to find after taking professional courses.
This article will tell you what to do after b.com and which course is best. The only way to ensure a successful job after your B.Com. is to finish your degree. To advance one's career after receiving a B.Com. degree, one must pursue additional education, such as a post-graduate or a professional credential.
After earning your B.com, you can choose from a wide variety of intensive, fast-track courses after b.com designed to increase your marketability for high-paying positions.
A List of Best Job-Related Courses After B.Com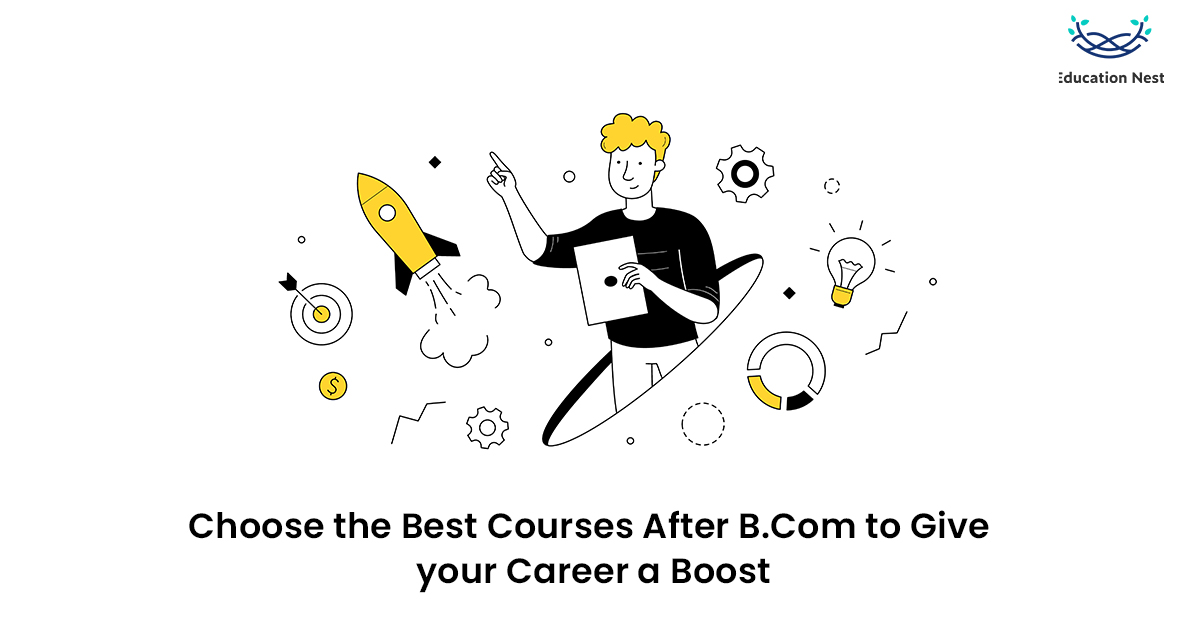 Following is a list of the best courses after B.com in India that you can pursue to get a career boost:
Digital Marketing
Data Science Certification
Graphics Designing
Chartered Accountancy (CA.)
Cost Accountancy (ICWA)
Business Accounting and Taxation (BAT)
Master of Business Administration (MBA)
Master of Commerce (M.com)
Supply Chain Management (SCM)
Certificate in Investment Banking (CIB)
Digital Marketing
Digital marketing has become a popular and lucrative field of study for people with a B.Com.
It's just a different word for advertising that uses the internet.
This idea is often called "digital marketing," but it also has a few other names. This is like a computer class that you can take online. After getting a B.Com, most people are told to take a course in digital marketing.
You'll also learn everything you need to know about web marketing tools and strategies. Digital marketing strategies like search engine optimisation (SEO), social media marketing (SMM), content writing, and many others can help anyone grow their client base and make their business more successful.
Most people wrongly think that they need to know much about technology to get anything out of digital marketing training. That's not true. If you know how to use a computer, you already have the skills you need to master digital marketing.
You Must Read: AWS Certification Cost: A Must-Read Guide to Know About AWS 
Data Science Certification
It's no secret that data science is one of the fastest-growing fields in IT. After earning a bachelor's degree in business administration, getting a degree in data science is a significant next step. More and more companies rely on data, so it's no surprise that many are looking to hire data scientist professionals to help streamline their corporate meetings. This certification course could help you decide if you want to get into this lucrative field or if you want to stand out from the crowd.
Graphic Designing
Students in the B.Com program who are also creative can take this graphic design course. Students are encouraged to share their points of view through their coursework, which will show in what they make. Every business needs a graphic designer because raising awareness and driving sales is impossible without professionally designed materials like a website, logos, and social media posts. It's a significant step after getting a B.Com. You can start immediately.
Chartered Accounting (CA)
Most commerce majors immediately consider becoming CAs when thinking about their future careers. After getting a Bachelor of Commerce, one job option is to become a Certified Public Accountant. Unlike an MBA program, students can start studying for their CA as soon as they graduate high school. The three phases of the CA are the CPT, the IPCC, and the CA Finals. To become a chartered accountant, you must pass three exams and intern for two and a half years. It's up there with some of the most fantastic post-B.Com jobs.
Accounting for costs (ICWA)
The Institute of Cost and Works Accountants (ICWA) course is for people who want to learn how to manage a company's costs and set up checks and balances to ensure the company stays profitable. It's an excellent choice for people with b.com degrees who want to graduate school.
Accounting and taxes for a business (BAT)
Accounting professionals make courses like Business Accounting and Taxation to help students get ready for careers in accounting. After getting a B.Com., this is a great way to get a quick refresher. This program is a great way to get real-world experience in the tax and accounting fields and learn to use some of the most valuable tools.
In the course's different sections, you'll learn about the closing of financial statements, direct taxation, ERP-based financial reporting, Excel- and ESIC-based payroll, and management information system reporting.
Master of Business Administration (MBA)
After getting your b.com, you can get an MBA to advance your business career. In response to your question about what to do with your life after completing your bachelor's degree in business administration, I recommend pursuing an MBA at a well-regarded institution. But to get into the best schools, you must take the CAT test.
Master of Commerce (M.com)
Most students want to avoid getting an M.com, but some do it as a backup plan after they finish their B.com. But really, you should be interested in academia if you care about learning and knowledge, if you want to be a professor, or if you want to do research. Simply put, it's a more extended version of the common B.com. The main books for your M.com classes will be the same as those for your B.com. M.com offers post-graduate specialisations in accountancy, management, economics, finance, analytics, tax, marketing, and management.
Supply Chain Management (SCM)
After getting your b.com, SCM is the best choice if you want to get a diploma in just one year. This includes materials, inventories, finished items, buying, shipping, and other similar tasks. If you finish this training, you can apply for similar jobs at other companies.
Certificate in Investment Banking (CIB)
You must participate in the CIB program for six months to get the highly sought-after investment banking credential. After getting a b.com, a job as an investment banker is a good option for people who want to start working. The average income of people who finish this program is pretty high. The main job of this position is to advise customers about the best ways to increase a company's funding by selling stock or issuing debt.
If you want to improve your chances of getting a job, getting a certificate in investment banking will be beneficial.
Here are a few professional courses after B.Com to take your career to the next level.