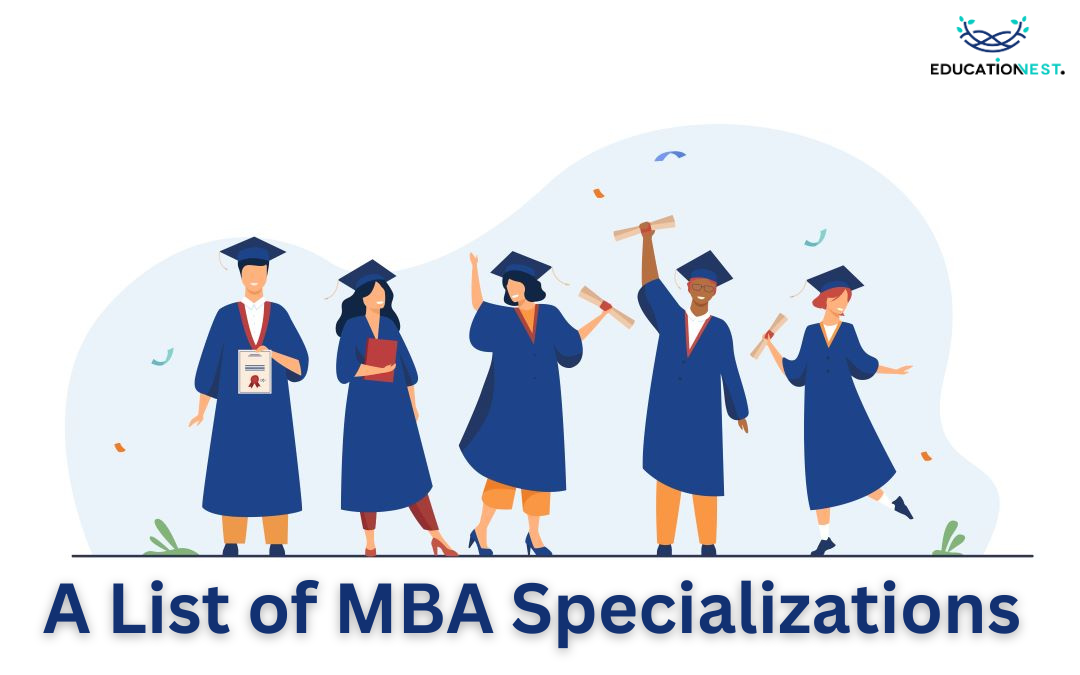 An MBA (Master of Business Administration) is one of the most popular post-graduate programs pursued by students across the globe. The two-year program provides exposure to various management concepts and helps develop business acumen in students. With the job market becoming increasingly competitive, an MBA degree has become a prerequisite for managerial and leadership roles in reputed organizations. The MBA program comprises core courses in the first year that cover essential business topics like Accounting, Finance, Marketing, Operations, Strategy, etc. The second year allows students to specialize in a chosen field like Marketing, Finance, Information Technology, Human Resources, etc. Choosing the right specialization is crucial as it defines your career path post MBA. In this blog, we will discuss some popular MBA specializations and how they can help build a rewarding career. Well, let's explore the MBA specializations list.
MBA Specializations List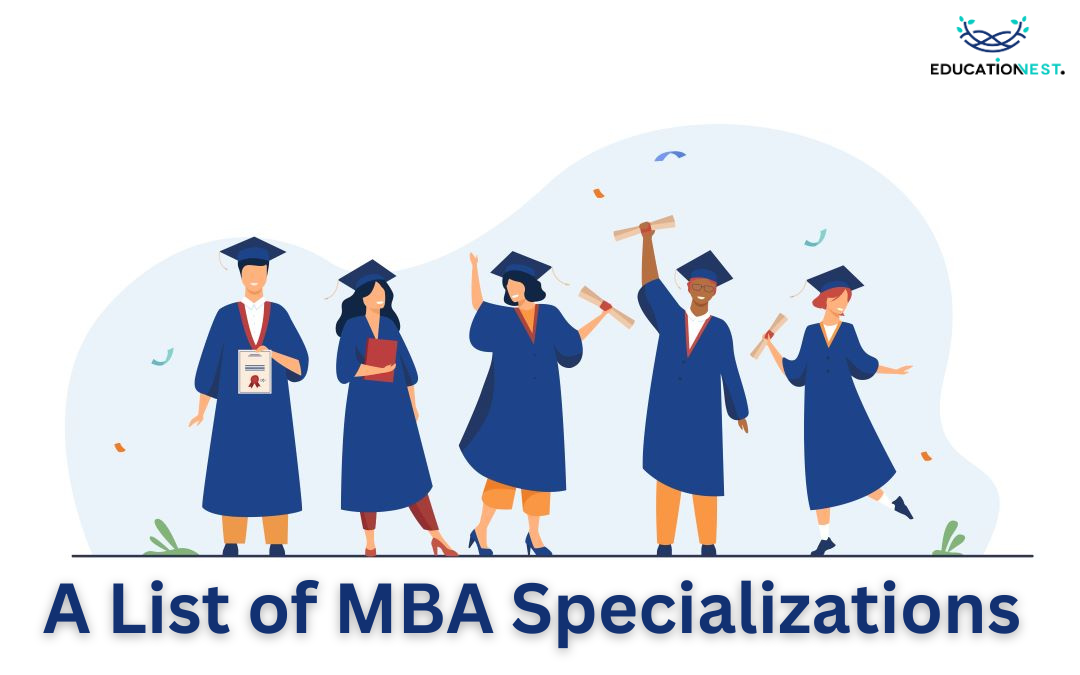 Here are some of the most popular specializations opted by MBA students:
Marketing:
This specialization focuses on marketing management, brand building, digital marketing, customer analytics, etc. It equips you with skills to drive business growth through effective marketing strategies.
Finance:
If numbers excite you, this specialization will help you gain expertise in financial management, investment analysis, capital markets, corporate finance and other areas. Top roles include investment banker, fund manager, financial analyst etc.
Information Technology:
With every business going digital, this specialization provides in-depth understanding of managing technology and using it strategically for business benefits. Roles include technology/strategy consultant, business analyst etc.
Operations:
Want to be able to increase efficiency in business processes? Operations specialization imparts knowledge on supply chain management, quality control, logistics, process improvement etc. Top roles are business process managers, operation analysts etc.
Human Resources:
This specialization focuses on managing the most crucial asset of any organization – its people. Core areas covered include talent acquisition, compensation & benefits, performance management, learning and development etc.
General Management:
This offers flexibility to gain knowledge across business domains without specializing in any one area. General management skills are useful if you want to rise up the corporate ladder to leadership roles.
MBA Course Syllabus
The MBA course syllabus is structured to impart theoretical knowledge as well as practical application of concepts.
Here's a quick look at some of the core subjects covered in a typical MBA program:
Principles of Management – Understanding planning, leading, organizing and controlling functions
Organizational Behavior – Managing individuals, teams and organizations
Accounting – Financial and managerial accounting concepts
Business Statistics – Statistical analysis and quantitative methods
Business Economics – Micro and macro-economic theories
Operations Research – Logistics, supply chain and operational efficiency
Business Law – Contracts, labour law, tax regulations etc.
Finance and Costing – Capital budgeting, working capital, cost allocation etc.
Marketing Management – Segmentation, targeting, positioning and marketing mix
Business Ethics – Ethical business standards and corporate governance
Strategy – Competitive analysis, business strategy and strategic management
IT and E-Business – Leveraging technology for business growth
In the second year, students can choose 4-6 electives from their specialization area to gain domain expertise. The curriculum provides the right balance of concepts and practical learning to prepare students for managerial roles.
MBA in Information Technology
With businesses relying heavily on technology, an MBA in Information Technology is a great way to build a career that leverages your tech skills.
The specialization covers areas like:
IT Strategy – Aligning technology and business goals
Data Analytics – Extracting insights from data to drive decisions
Digital Transformation – Use of emerging technologies like AI, ML, Blockchain
Cybersecurity – Securing information assets and mitigating risks
Project Management – Planning and executing tech projects
Graduates can take on roles like IT managers, data analysts, technology consultants, business system analysts etc. Top recruiters include tech companies as well as non-tech companies looking for tech-savvy managers who can lead digital transformation. With abundant jobs and attractive salaries on offer, IT is one of the best specializations to opt for today.
MBA in Operations Management
Operations management is a vital function driving efficiency, process improvement and productivity in every organization. The specialization equips students with skills like:
Managing end-to-end supply chains
Maintaining quality standards
Enhancing operational efficiency
Designing and improving business processes
Managing inventory optimally
Forecasting demand accurately
This opens up lucrative roles like operations manager, business process analyst, quality assurance manager and supply chain manager across different industries. Manufacturing, e-commerce and logistics companies specifically seek out MBA grads specialized in Operations. With rising demand for operational excellence, this specialization provides great prospects for a rewarding career.
MBA in General Management
General management is the broadest specialization that offers an overview of all business functions. Some core areas covered are:
Leadership skills like decision making, problem solving, communication
Financial management and accounting
Marketing and sales management
Operations and supply chain processes
Business analytics and intelligence
Strategy formulation and implementation
General management skills are highly valued for leadership tracks and C-suite roles. Graduates can consider diverse career options across functions in any industry. Companies also prefer general management specialization for rotational leadership development programs aimed at building future CXOs. While specific domain knowledge has its merits, the wide exposure provided by a General MBA is unbeatable.
Which MBA Specialization is Best Paid?
While salaries differ based on the role, industry and company, some specializations tend to be paid higher on an average. According to various rankings and surveys, these are some of the highest paying MBA specializations:
Investment Banking – High finance roles offer lucrative pay packages
Consulting – Global strategy consulting firms pay hefty salaries
Information Technology – Great demand for tech-savvy resources
Marketing – Brand managers enjoy fat paychecks and incentives
Operations – Critical for improving productivity and margins
However, money should not be the only criterion for choosing a specialization. Aligning your interests and career aspirations is more important. The right specialization provides better job satisfaction and growth than just a fat salary.
Best MBA Specializations
The most preferred MBA specializations globally are:
Marketing – Ever-growing need for marketing professionals across sectors
Finance – Financial expertise is invaluable for every organization
Information Technology – Digital transformation driving huge demand
Operations – Helps improve efficiency in companies of all sizes
General Management – Equips you with holistic business acumen
Analytics – Data-driven decision making is the way forward
Entrepreneurship – Helps convert your business idea into reality
International Business – Opens doors for global careers
Choose a specialization that excites you and aligns with your interests. Research the curriculum, emerging trends and job prospects before deciding. While pursuing your MBA, make the most of internships and projects to build specialized domain knowledge. With the right specialization on your CV, you will be on your way to a stellar and rewarding career!
Conclusion
The MBA program offers a potpourri of specializations to choose from. While core courses provide generalized business knowledge, the specialization empowers you to gain expertise in a chosen domain. Companies hire talent with specialized skills that can immediately add value. Hence, the MBA specialization goes a long way in determining the career path and progression after your MBA. Choose one that resonates with your interests and future goals. The right specialization coupled with hard work and perseverance is sure to unlock a world of opportunities for you!