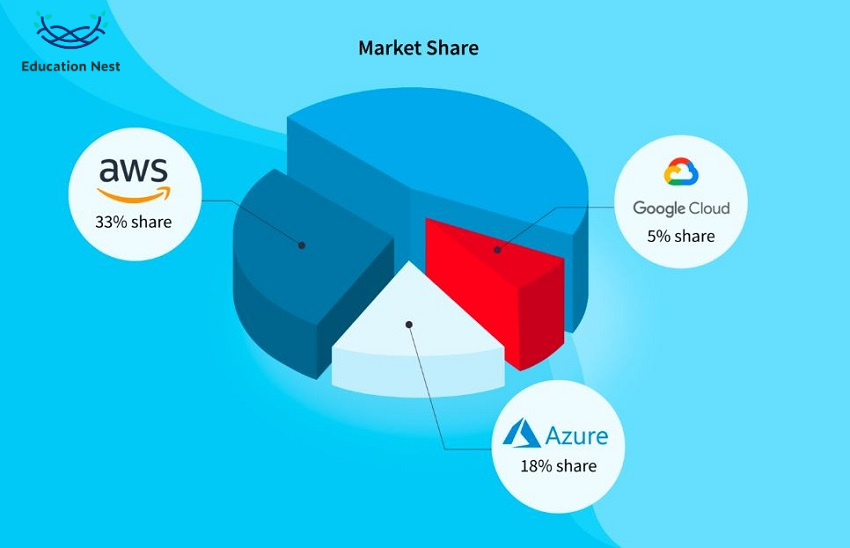 Since the beginning of industry and business, people have needed better ways to store information and get to it when needed. Before computers, important information was written down on paper. Today, most data is stored on the hard drives of computers and servers. These hard drives and servers can quickly and easily store, process, and retrieve a lot of data.
But hard drives and servers have their limits, and the rate at which businesses and industries are growing today has made it a priority to find storage that can store and process ever-larger amounts of data. Cloud computing has come to the rescue in this case.
AWS, Azure, and GCP are all fighting hard to be the best cloud service. Beginners may only think about price when choosing a public cloud service provider, but there are other things to think about when choosing a cloud service provider. This blog will give you a detailed look at how AWS, Azure, and GCP compare. In this blog post we will evaluate the three major cloud computing platforms to find out the best one for you.
What is Cloud Computing?

Cloud computing is having access to applications, servers , data storage, development tools, networking capabilities, and other computing resources hosted at a remote data center and managed by a cloud services provider on-demand through the internet (or CSP). The CSP gives them access to these resources for a monthly fee or bills them based on how much they use them.
Now we will evaluate the three major platforms for cloud computing based on many factors such as pricing, market share and which one is the best to learn.
Aws Vs Azure Vs Google Cloud Pricing
When choosing a cloud platform provider, price is one of the most important thing to consider. Since all three companies have different ways of pricing and offering discounts, it's hard to compare them clearly. Here is a quick summary of how each provider sets prices:
AWS: Some of Amazon's models have very complicated prices, and the company gives you tools like AWS Calculator, AWS Cost Explorer, and Trusted Advisor to help you estimate costs and find ways to save money. At the same time, Amazon has many ways to save money on its services, such as spot instances, reserved instances, and savings plans.
Microsoft Azure: The prices for Azure are easier to understand. It gives you a dashboard with a billing section where it's easy to see how much you're spending and what it's for. Azure has a pricing calculator that makes it easy to figure out how much services will cost, as well as a powerful enterprise budgeting system that lets you split costs among different departments or business units.
Google Cloud: Google's pricing structure stands out because it is attractive and easy for customers to understand. It competes with other cloud service providers by trying to offer lower prices.
All three vendors have a free tier where you can try out their services before you buy. Each also has a "free forever" tier where they offer a limited set of services indefinitely.
Also Read: BEST Cloud Certificates for 2023
Aws Vs Azure Vs Google Cloud Market Share
Amazon Web Services (AWS), the online store's profitable cloud platform, has been a leader in the cloud infrastructure market since the beginning. It is still in the lead. Synergy Research Group says that Amazon's share of the global cloud infrastructure market was 34% in the third quarter of 2022. This was still more than the market share of its two biggest rivals, Microsoft Azure and Google Cloud, put together.
Global spending on cloud infrastructure services rose to $57 billion in the third quarter of 2022. This brought the total for the previous twelve months to $217 billion. The chart below shows that Amazon, Microsoft, and Google made up two-thirds of the revenue from cloud infrastructure in the three months ending September 30. The eight largest providers controlled more than 80 percent of the market.
"The fact that the worldwide market for cloud computing grew by 24 percent from last year despite two major obstacles to growth shows how good it is "Synergy Research Group's top analyst, John Dinsdale, said. "If exchange rates had stayed the same and the Chinese market had stayed on a more normal path, the growth rate would have been well into the 30s.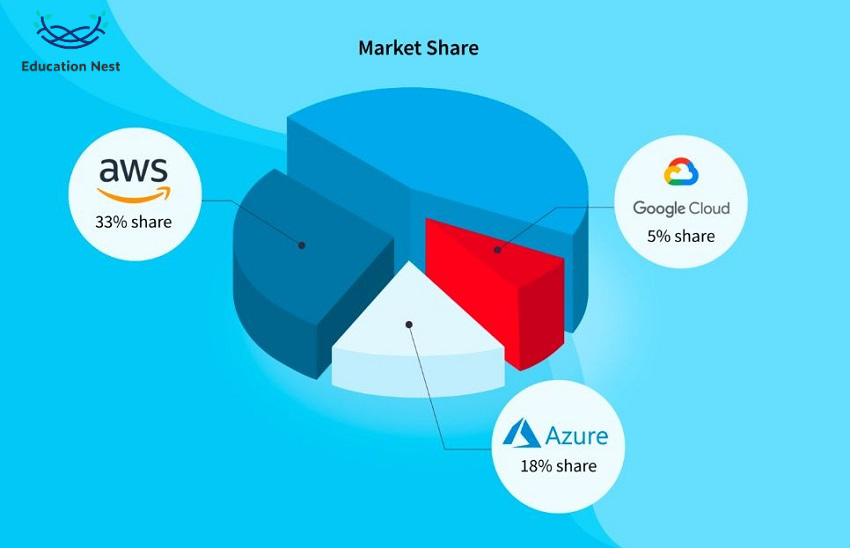 Aws Vs Azure Vs Google Cloud Which Is Best To Learn
AWS: AWS is the most popular cloud platform in the world. It has been around for more than a decade and has a wide range of services for different uses. At the moment, AWS is at the top of the food chain because it has the largest public cloud market share in the world.
Pros:
Cloud's Top Innovator
Wide reach around the world
Cloud technologies that are mature and full of features
Good records of the services
A lot of materials for training
Why learn AWS?
AWS Certifications are the most demanded in the cloud industry.
When compared to other Cloud Platforms, AWS skills are in higher demand.
If you've never used the Cloud before, AWS is easier to learn because there are more blogs, eBooks, and video tutorials available online.
AZURE: After AWS, Azure is the second-biggest Cloud Service Provider. The Azure platform has great support for interoperability with data centers, which is the main reason why it is a good choice for hybrid cloud.
Pros:
Offers a familiar environment for people who are used to using Microsoft.
Integration with other Microsoft products is simple.
Hybrid cloud
Why learn Azure?
If you've used Microsoft's services before, you'll have a stronger reason to learn Azure (Windows Server, SQL Server, .NET, Dynamics Active Directory)
If you already have Microsoft Certifications like MCSA: Windows Server 2016, MCSA: Office 365, or MCSA: Windows 10, it makes more sense to learn Azure before applying for a job in the Cloud.
Global Knowledge says that two Azure certifications, Azure Fundamentals, and Azure Administrator Associate, are among the 15 highest-paying IT certifications.
Google Cloud Platform (GCP): GCP isn't that old when it comes to cloud computing. Even though GCP is the underdog, it is catching up slowly and becoming a threat to AWS and Azure. GCP is the cheapest of the three cloud platforms. It also has the most flexible cost control so that you can try out the different services and features.
Pros:
A cheap pricing model for live migration of virtual machines
Strong integration and management of Google's technologies.
A wide range of tools for AI and machine learning (Google APIs, Kubernetes)
Why learn GCP?
Global Knowledge says that the best-paying IT certification is Google Certified Professional Cloud Architect, which brings in an average salary of $175,761.
Whether you build apps as a hobby or for a living, if you mostly use Google's services (like Firebase or the Google Maps API), you or your company would benefit from learning GCP. GCP makes it easy to manage and keep a track on APIs that Google already supports.
Even though GCP only offers a few features and products, it works well with Google's open-source technologies like Kubernetes. Kubernetes is a well-known tool for managing containers that are used for orchestration. Most modern apps are usually run in the cloud on controlled containers. And if you want to run Kubernetes, learning GCP will make you more valuable than learning other cloud providers.
Conclusion
With more points in this cloud battle between Azure, AWS, and Google Cloud, AWS is the best cloud provider today. But it's hard to say how long AWS will be the top cloud provider since Azure and GCP are constantly moving up the list. Even though AWS is the first of its kind, which is a plus, Azure and GCP also have their advantages. Since it's easy to connect MS tools to the Azure cloud, it makes more sense for some organizations that use MS tools to use the Azure cloud. And the only reason customers should choose GCP is that it has the best pricing model for the infrastructure on which Google Search and YouTube run.
So, it would be better to say that it's not about choosing the best cloud providers; it's about choosing the best cloud provider for your needs.
For more interactive topics, visit educationnest.com right away!