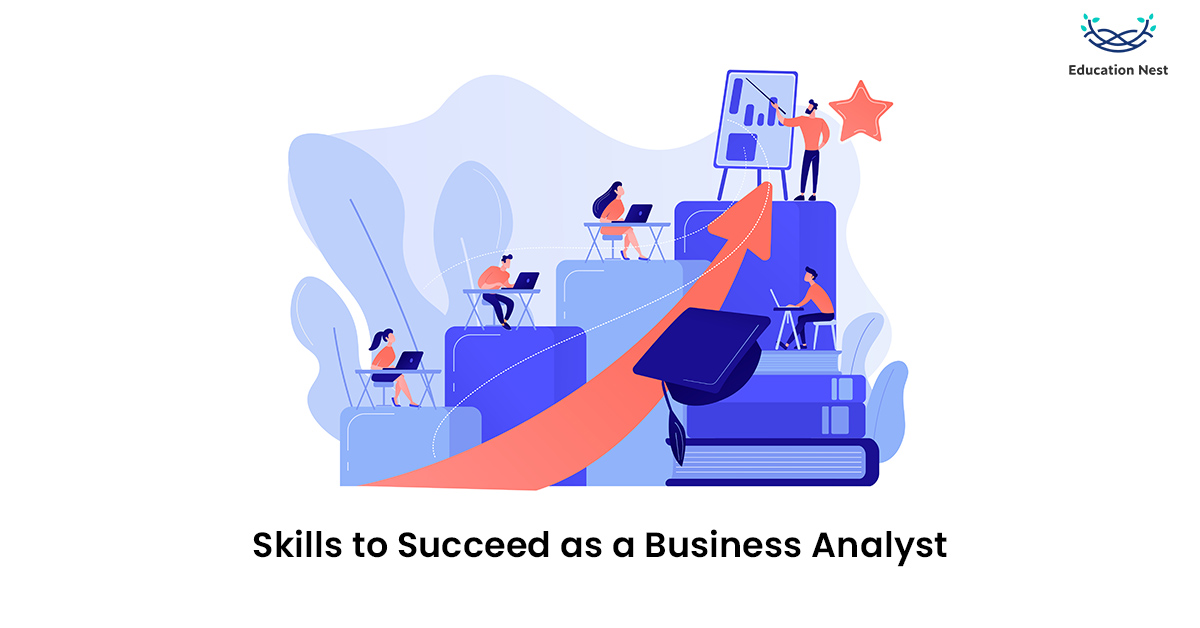 Today, the field of business analytics is expanding. Professional business analysts are increasingly in demand all around the world. A business analyst is a specialist in business technology and data. They analyze data, conduct market research, overlook corporate operations, and handle consumer interactions to help businesses perform better. 
This essay will guide you through all the technical skills required to work in this in-demand industry.
Who is a business analyst?
Business analysts evaluate an organisation's performance and work with it to enhance its systems and processes. They conduct research and analysis to develop solutions to business challenges and aid in their introduction to businesses and their customers.
Business analysts, often referred to as business systems analysts or functional analysts, analyse data to recommend ways an organisation might run more efficiently. They collect and analyse data to design and research prospective organisational challenge solutions, such as system and process upgrades.
A wide variety of lucrative subjects combined with a business analyst's expertise benefits job satisfaction levels. In order to succeed, you must be proficient in data analysis, statistical analysis, user story analysis, and business intelligence.
Skills of a business analyst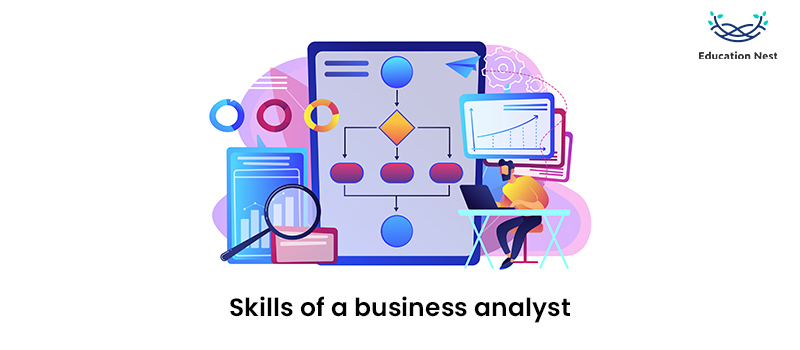 A business analyst's primary goal is to gather, organise, and evaluate raw business data to use it to promote the broader business plan. To become a business analyst, you need to have specific abilities. This will allow you to start new businesses and advance as a professional business analyst.
Understanding Business Objectives
The first stage in a business analyst's life is understanding the business motive, which is an ability of its own.
The objectives and issues of a company should be clear to a business analyst. They must be able to identify business issues and find the best solution.
Business analysts should have domain expertise in the company they work for. This will assist them in completing the necessary deliverables.
Business analysts typically seek to facilitate change to boost sales, scale manufacturing, improve income streams, etc.
You Must Know: Expert Tips on Answering the Top 9 Power BI Interview Questions
Analytical and Critical Planning
Though it may seem simple, the ability to think is undervalued. A business analyst's fundamental abilities are analytical and critical thinking. They can prioritise business requirements thanks to critical thinking. 
The client's needs must be analysed and translated by the business analyst.
Before choosing the desired solution, a business analyst might evaluate various choices with critical thinking.
Even when resources are constrained and conditions could be better, a business analyst with a solid analytical bent can accomplish the stated objectives.
Since only faultless data can produce ideal results, business analysts should concentrate on the data they are collecting and their techniques.
Cost-Benefit Analysis and Negotiating
Business analysts perform a cost-benefit analysis to evaluate the expenses and benefits anticipated in a project. Business analysts perform a cost-benefit analysis to determine whether an organisation should start a new project before moving forward.
Negotiating is a critical skill that every business analyst needs to possess. A business analyst needs to be skilled in negotiations to serve as a link between an organisation's business and IT departments. They then decide which requests become needs and priority levels using their negotiation skills.
Consequently, a business analyst needs to be able to bargain with both teams on a range of terms and conditions.
Decision Making
A business analyst's choices can affect a company's operations directly and indirectly. They should therefore consider all the factors before offering their choice.
A business analyst analyses the situation and identifies potential business solutions before making a choice. They then put each alternative strategy to the test and decide based on their impressions of these strategies.
Business analysts should consider their options carefully before making a choice. Business analysts can make better decisions when they adopt a mentality that considers multiple factors and foresees potential outcomes.
Finally, they put the solution to the test. Additionally, business analysts make the final decision as to whether or not a specific technological design complies with the discussed business requirements.
Data Visualisation and Business Intelligence Tools
Business analysts may help clients understand the data and make strategic decisions to satisfy their needs by using their expertise in data visualisation. Data visualisation is necessary for unstructured data to be converted into digital representations that can be used for action.
Business analysts employ various data visualisation techniques, including scatter plots, timelines, line graphs, etc. A business analyst must be skilled in using all these methods to create appealing and detailed representations.
To develop reports and dashboards, business analysts need to be skilled users of various business intelligence technologies. To help with decision-making, business analysts create widespread reports and dashboard reports.
A solid knowledge of Tableau, QlikView, and Power BI is required to create various reports for business needs.
Communication and Interpretation
Of the skills required by business analysts, communication is the most important. Being understood is just as important as understanding.
Their primary duty is to provide strategies for business growth. They must be able to express their thoughts and beliefs to their group in a way that is clear what they are attempting to say.
You should be able to explain the needs to clients and stakeholders clearly and in simple language. Business analysts communicate with stakeholders orally and in writing to share ideas, information, and viewpoints. A business analyst with strong interpersonal and communication skills will feel more confident when leading meetings.
Problem Solving
Business analysts can advance in their professions by having problem-solving expertise. In their daily work, business analysts should be able to solve problems and get over obstacles.
A business analyst can use the following steps to resolve any business issue:
Identify the issue's primary cause.
Consider looking at the issue from multiple angles.
Find a potential resolution.
Determine the results of the solution.
Constantly evaluate the outcome to refine your approach.
Statistics and Probability
The importance of statistics in business analytics cannot be disputed. In-depth data insights can be gained from statistics by using its methodologies and tools.
The main objectives of statistics include data gathering, organisation, analysis, interpretation, and presentation. Statistics are helpful for every organisation due to the significance of data in modern technology.
Business analysts use statistical analysis to make sense of unstructured and raw data and draw conclusions—the outcomes of statistical analysis aid organisations in decision-making and future forecasting based on past patterns.
MS Excel
One of the most effective reporting and analytics tools is Excel. Business analysts use it to create reports, perform budget studies, and perform a range of computations to identify market trends. Business analysts can even use it to make decisions and design documentation. It is simple to use and learn, as well.
Excel is an excellent tool for handling and analysing data quickly. You can quickly determine the necessary parameters by adding the proper formula.
Business analysts use pivot tables for summarising data. They create several charts in Excel to produce dynamic reports relating to a business issue.
Conclusion
Today, business analysts are prevalent in every industry. There is a demand for experts with fundamental business analyst skills to enhance business processes.
Readers should have a better understanding of what a business analyst is and the numerous skills they need to have. a blend of the non-technical and technical skills is necessary to become a business analyst,
You can enrol in online and off certification programmes to improve your business analysis abilities and advance in your job.