In today's fast-paced world, online education has become a game-changer for many learners in India. With a multitude of online education portal available, finding the right one that caters to your needs can be a daunting task. But fret not! We've got you covered. In this blog, we will dive deep into the top 10 online education portals in India, helping you find the perfect platform to boost your knowledge and skills.
First, let's understand what an online education portal is.
What is an Online Education Portal?
An "Online Education Training Portal" is like a magical treasure chest full of knowledge and learning opportunities on the internet. Imagine it as a place where you can go to learn new things, just like you do at school, but it's all on your computer or smartphone.
These portals are websites or apps where you can find all sorts of courses, lessons, and information. It's like having your own personal teacher on the internet. You can learn about a wide range of topics, from math and science to art and cooking, and even more. They have videos, articles, quizzes, and sometimes even live classes with real teachers.
The best part is that you can learn at your own pace, whenever and wherever you want. So, if you're curious about something or want to improve your skills, you can visit one of these online education portals, explore the lessons, and start learning. It's a fantastic way to gain knowledge and grow personally and professionally without leaving your home!
Now, let's look at a few well-known online education portals.
Well-known Online Education Portals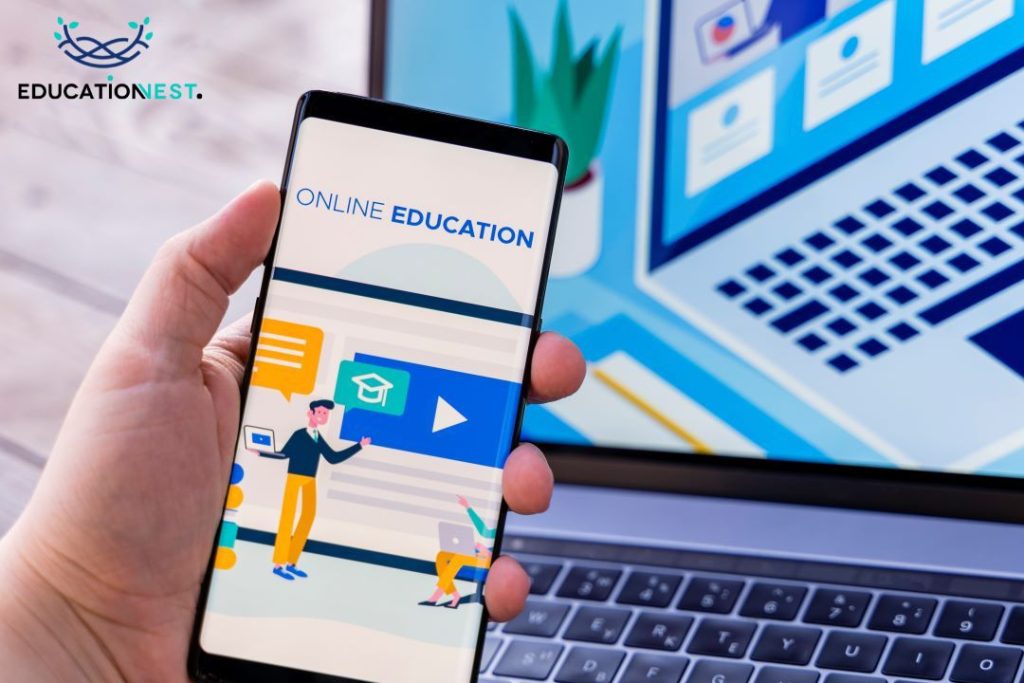 Here's a list of top 10 education training portals which one can rely upon.
Education Nest- Your Go-to Online Education Portal
Discover Education Nest, the top-rated academy offering live online training courses. Enhance your skills with our expert instructors. As a subsidiary of Sambodhi Research and Communications Pvt. Ltd., Education Nest is a global knowledge exchange platform that empowers learners with data-driven decision-making skills. It features online courses designed by experts to help you expand your skills and engage with a global network of learners through live training sessions, case-based learning, and interactions with the best from the field. They offer individual courses as well as corporate training.
Coursera – Your Gateway to World-Class Education
If you're looking for top-notch courses from renowned universities and institutions, Coursera is the place to be. It offers a wide range of courses, from business to technology, and provides certifications that hold weight in the job market.
Udemy – Learn from Experts Worldwide
Udemy is a treasure trove of knowledge. It hosts a vast collection of courses taught by experts from around the globe. Whether you want to learn a new language, master coding, or even play the guitar, Udemy has you covered.
edX – Quality Education from Harvard and MIT
edX brings the prestige of Harvard and MIT right to your doorstep. With an array of courses spanning various disciplines, edX offers both free and paid options, allowing you to learn at your own pace.
Khan Academy – Quality Education for Free
Khan Academy is a true gem for those seeking free, high-quality education. Covering a wide range of subjects, this non-profit platform aims to make learning accessible to all. It's perfect for students of all ages.
Byju's – Revolutionizing Learning in India
Byju's has taken the Indian education system by storm. Their interactive and engaging content is specially designed to cater to students from classes 1 to 12. It's a one-stop solution for exam preparation and more.
Simplilearn – Upskill Your Career
If you're looking to advance your career, Simplilearn is a fantastic choice. Specializing in professional certification courses, it offers programs in areas like digital marketing, data science, and project management.
UpGrad – Elevate Your Skills
UpGrad is designed to help working professionals enhance their skills and knowledge. With industry-relevant courses and mentorship programs, it's a great choice for career growth.
Vedantu – Personalized Learning for K-12 Students
Vedantu is another platform tailored for K-12 students. With live online classes and personalized attention, it's an excellent choice for those seeking a more interactive learning experience.
Unacademy – India's Largest Learning Platform
Unacademy has gained immense popularity for its diverse content, including exam preparation, language learning, and much more. It boasts a vast network of educators who are experts in their respective fields.
Brainly – Collaborative Learning Community
Brainly is the go-to platform for students looking for answers and assistance with their homework. It's a collaborative community where students can help each other, making learning a social experience.
Conclusion
In conclusion, the world of online education in India is brimming with options, and each of these platforms has something unique to offer. The key is to identify your learning objectives and pick the one that aligns best with your goals. Remember, the right online education portal can be a game-changer in your quest for knowledge and personal growth. So, explore these options, stay engaged, and unlock your full potential through online learning. Happy learning!