Businesses today rely heavily on Digital and social media marketing to get the word out about their products and services. They use the same networks and apps to promote their products and services. Digital marketing campaigns are often run by teams of experts whose backgrounds and skills complement each other. Here, in this blog, we will be mapping out the differences between digital and social media marketing. Moreover, we will learn about both of them.
In this situation, we will be differentiating both on various parameters. Let's begin by defining digital and social media marketing.
What is Digital Marketing?
"Digital marketing," or "online marketing," is a term for advertising campaigns using digital media.
Furthermore, digital marketing includes a wide range of strategies, such as
social media marketing
search engine optimization
affiliate marketing
video marketing
content strategy
influencer marketing
referral marketing
email marketing
market research
Now, let's see what social media marketing is.
What is Social Media Marketing?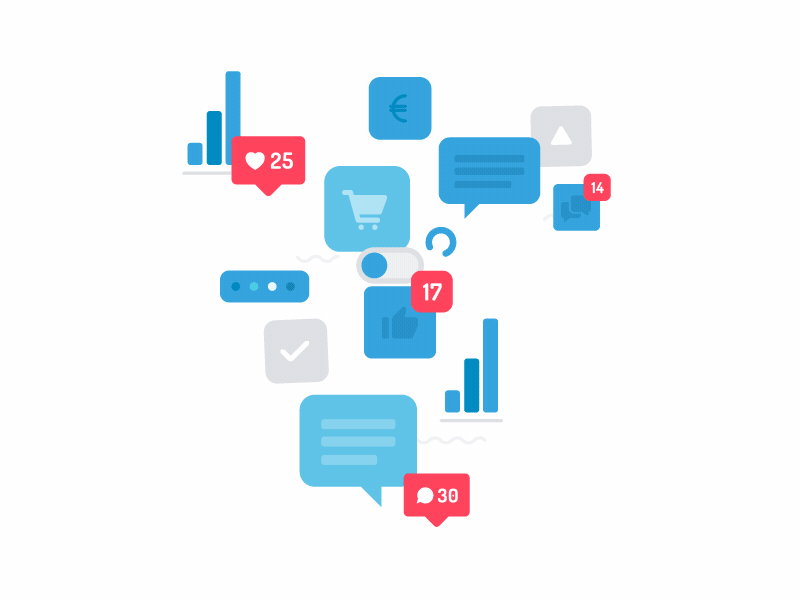 Digital marketing includes social media marketing, which uses sites like Facebook, Instagram, Twitter, and LinkedIn. In this case, to raise brand awareness, social media marketing campaigns often involve-
creating and curating content for different social channels and audiences,
interacting with current and potential customers on social platforms,
setting up an online presence.  
Goals of Digital and Social Media Marketing
Now, we will examine the digital and social media marketing goals.
Goal of Digital Marketing
Using digital marketing techniques, you can reach many different marketing goals.
For example, a direct-to-consumer sustainable clothing brand may decide that increasing brand awareness through digital channels is the best way to reach new customers. In fact, it can set itself apart from the competition.
It could invest in search engine marketing to-
bring more people to its website,
write a series of blog posts to show how its supply chain works,
or do more influencer marketing to get more people to buy.
All of these methods are part of digital marketing. However, not all of them have to involve social media.
The goal of Social Media Marketing (SMM)
Every business will have its own set of goals for marketing on social media. For example, for a direct-to-consumer sustainable clothing brand, the same company could use Instagram, Twitter, Facebook, and TikTok as part of a social media marketing plan to reach customers. It could use Instagram to show off its lookbook, respond to customer questions and comments on Twitter, and work with influencers on TikTok to make its brand more important to a specific audience.
Process of Digital and Social Media Marketing
At this point, let's look at the process of digital marketing and SMM.
Digital Marketing Process
Setting marketing goals, figuring out your target audience, and making a marketing budget are the first steps in creating a successful digital marketing strategy. The next step is to develop and launch a campaign using the right digital marketing channels. Monitoring metrics and using data to improve future campaigns are key parts of the most successful digital marketing campaigns, whether large corporations or small, lean startups run them.
Social Media Marketing Process
A social media audit is the first step in social media marketing. It shows marketers how active a company is on different social media platforms. An audit will show a company's social media presence's strengths and weaknesses, as well as key demographic information and insights into the types of content that do best on each platform. Hence, the marketing team can decide whether to focus on just one social media platform or use more than one.
We can understand the differences between digital marketing and social media marketing based on the abovementioned aspects.
Now, let us explore the digital marketer vs. social media marketer role.
Role of Digital Marketer Vs. Social Media Marketer
The roles and responsibilities of digital and social media marketers can sometimes overlap. But both roles do have a set of specific responsibilities too. Thus, let's explore each of them separately.
Responsibilities of a Digital Marketer
Management of market insights
Creating and organizing campaigns like search ads, display ads, digital marketing assets, etc.
Management and optimization of websites.
Tracking website traffic
Improving website performance
Taking measures to drive relevant engagement and traffic
Responsibilities of a Social Media Marketer
Creating social media strategy and plan
Identifying the relevant target audience
Coming up with ideas for customer acquisition
Gaining popularity of social media sites
Communicating with the audience and building relationships
Lastly, let's look at various career opportunities for both roles.
Career Opportunities
Here, we will look at various career opportunities available after digital and social media marketing.
Digital Marketing
Digital marketing manager
SEO Executive
Email Marketing
Ads Specialist
Content Marketer
Product Marketing
Social Media Management
Social media manager
PR manager
Influencer marketer
Community marketing manager
Community strategist
Conclusion
To summarize, a company needs a digital marketing manager who knows all the different parts of digital marketing and can oversee the implementation of a strategy that helps the business reach its marketing goals. On the other hand, a social media marketing manager will have a narrower focus than other marketing managers and will be in charge of making, launching, and improving the company's social media strategy.
One can learn about both professions and choose whichever works well for them.